Every­one who has ever opti­mized an Expert Advi­sor faced a prob­lem of choos­ing the best para­me­ters from all the opti­miza­tion results. Best of the Best is intend­ed to solve it.
The appli­ca­tion has a sim­ple and intu­itive graph­i­cal inter­face. It allows sort­ing the results of opti­miza­tion accord­ing to spec­i­fied cri­te­ria (Prof­it, Draw­down, etc.; 4 cri­te­ria in total and 9 in the full ver­sion) and weed­ing out them using fil­ters based on each cri­te­ri­on (for exam­ple: Prof­it > 5000, Draw­down < 0.2). The opti­miza­tion results are read from the strat­e­gy tester report file of the *.xml for­mat (must be locat­ed in MQL5\Files\).
After the final sort­ing, you can save any of the vari­ants in a *.set file, which can be used for fur­ther test­ing and oper­a­tion of the Expert Advi­sor.
How to Use Best of the Best:
Enter the name of the xml file with opti­miza­tion results (the "Opti­miza­tion Results" or the "For­ward Result" tab in the strat­e­gy tester). The file must be locat­ed in

MQL5

\Files\.
Click the "Load File" but­ton and wait for the mes­sage "File is read:<FileName>.xml" to appear.
Set the pri­or­i­ty for cri­te­ria.
Set the fil­ter para­me­ters.
Choose the nec­es­sary vari­ant and save it to a *.set file by click­ing the "Save *set" or "Save All *set" but­ton (the lat­ter one will save all the vari­ants from the table).
Use the obtained set files (\

MQL5

\Files\BestOfTheBest\<

EA

Name> <cur­ren­cy pair>,<Period> <StartDate>-<EndDate>\) for the real time work­ing of for test­ing the Expert Advi­sor.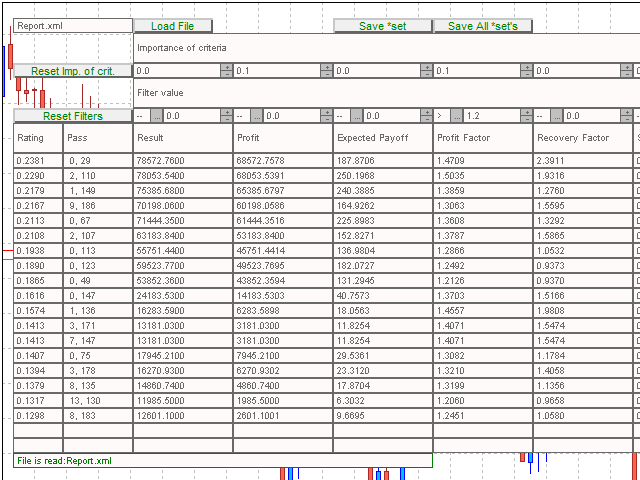 Relat­ed Posts
Ana­lyz­er
ID5
Demo Val­ues of trend­lines and
Ana­lyz­er
ALL
Sup­port Resis­tance
MT5
Free
Ana­lyz­er
ALL
TRENDS
FREE
Ana­lyz­er
PIP
PICKER
FREE
Ana­lyz­er
ID
Bars or can­dles with few­er
Ana­lyz­er Dia­gram of Trades Lim­it­ed
Ana­lyz­er
MACD
on Bars Lim­it­ed
Ana­lyz­er
HIGH
TRENDS
FREE
Ana­lyz­er Sta­tis­tics Bal­ance Line
Ana­lyz­er
MACD
on His­to­ry Deals Lim­it­ed