The script shows whether the can­dle is bull­ish or bear­ish in 15 time­frames and in 7 major pairs + 21 major cross­es. The pre­vail­ing trend can be seen for all 28 pairs in one chart.
The main use of this script is to find the high­ly trend­ing pair, espe­cial­ly in cross pairs. It can­not be test­ed in strat­e­gy tester.
Exam­ple: if EURUSD is UP (green arrow) and AUDUSD is down (red arrow), then EURAUD will go very high.
White arrows indi­cate

STRONG

UPWARD

move­ment of the price.
Blue arrows indi­cate

STRONG

DOWNWARD

move­ment of the price.
Grey arrows don't mean any­thing.
The script helps a lot in select­ing pairs for trad­ing. One can eas­i­ly select pairs which are trend­ing well for trad­ing. The script updates infor­ma­tion every sec­ond.
Note:
Close tool­box win­dow before exe­cut­ing the script. It allows view­ing all 28 pairs in the main chart win­dow, irre­spec­tive of the main chart size.
This free ver­sion comes with lim­it­ed num­ber of major and cross pairs. Buy full ver­sion with­out lim­i­ta­tions.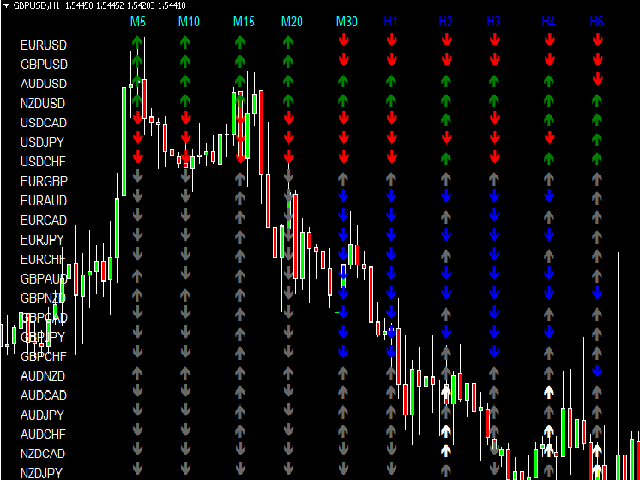 Relat­ed Posts
Ana­lyz­er
ID
Bars or can­dles with few­er
Ana­lyz­er Cor­re­la­tion Ana­lyz­er
Ana­lyz­er Mar­ket­StateIndi­ca­torDE­MO
Ana­lyz­er
MACD
on His­to­ry Deals Lim­it­ed
Ana­lyz­er Sta­tis­tics Bal­ance Line
Ana­lyz­er Dia­gram of Trades Lim­it­ed
Ana­lyz­er
ALL
TRENDS
FREE
Ana­lyz­er
ID5
Demo Val­ues of trend­lines and
Ana­lyz­er
ALL
Sup­port Resis­tance
MT5
Free
Ana­lyz­er Best of the Best Demo