This prod­uct sends Account Sta­tus Report to a spec­i­fied blogsite.
In Input, you can also set the time inter­val (in min­utes) between which the report has to be sent.
Before using this prod­uct, cre­ate a sep­a­rate blogspot site. And in e‑mail set­tings, choose as dis­played in the screen­shot. This blog­ger id should be spec­i­fied in "To" field in the mail set­tings of Meta­Trad­er 4 ter­mi­nal.
This free ver­sion dis­plays only one opened order. To post all open orders, buy full ver­sion.
The Post title dis­plays like below:
Account Status @ 2014.03.27 18:13:48
Bal­ance: 4245.65 » Equity:4329.88 » Profit:84.23
Open Orders
EURUSD ~ 0.1 BUY @ 1.3776 SL:0 TP:0 Bid:1.3744 Prof­it: ‑40
GBPUSD ~ 0.1 BUY @ 1.6483 SL:0 TP:0 Bid:1.6618 Prof­it: 135
USDJPY ~ 0.1 BUY @ 102.23 SL:0 TP:0 Bid:102.1200 Prof­it: ‑10.77
Â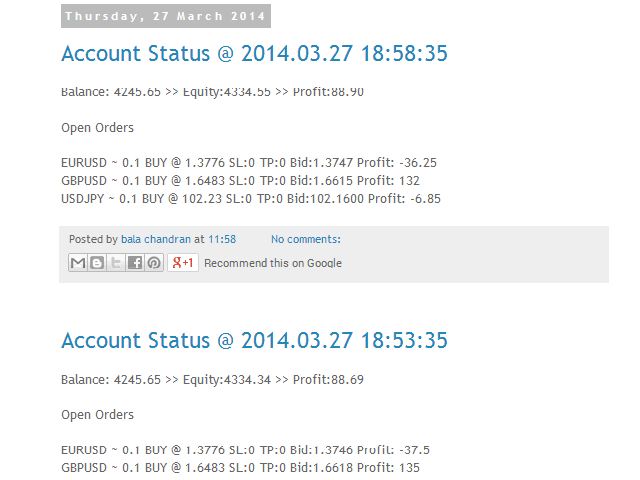 Relat­ed Posts
Expert Advi­sor Exp
COPYLOT
MASTER
for
Expert Advi­sor Hol­i­day Trad­er
EURUSD
Expert Advi­sor Breakeven Scalper Free
Expert Advi­sor Exp Opti­lan
Expert Advi­sor The Tree
EA
Free
Expert Advi­sor Crush­ing Forex Mar­ket Demo
Expert Advi­sor Smart Grid Execu­tor Demo
Expert Advi­sor Meta­Trail Lite
Expert Advi­sor Curi­ous Chameleon
EA
Expert Advi­sor Trail­ing­By­Par­a­bol­ic­SAR