Cho­senBest is a pro­fes­sion­al trad­ing robot, which imple­ments the strat­e­gy of com­plex oper­a­tion of a set of indi­ca­tors, chan­nels and oscillators.
Channels:
Stan­dard­De­vi­a­tion­Chan­nel
Sil­ver­Chan­nels
Oscillators:
A sig­nal is formed based on four inde­pen­dent sig­nals. The result­ing sig­nal must exceed the lev­el of Lim­itSig­nal. After that enter­ing the mar­ket at the spec­i­fied direc­tion is allowed. The max­i­mum val­ue of Lim­itSig­nal is equal to the num­ber of indi­ca­tors (4), and can take val­ues from 1 to 4 with a dec­i­mal incre­ment. The sig­nal of an inde­pen­dent indi­ca­tor can be adjust­ed by one of the coef­fi­cients (k_SDC, k_Silver, k_CCI, k_RSI), each of them can have the val­ue from 0.1 to 1 " the weight of an indi­ca­tor in the final sig­nal. 0.5 " the influ­ence on the final sig­nal is 50%, 1 " 100%, 2 " 200%. Thus, a resul­tant sig­nal is formed.
The EA cor­rect­ly process­es errors, and works reli­ably in the mar­ket. Can work with the ini­tial deposit from $100! It is impor­tant to choose the direc­tion of the EA oper­a­tion: both sides, only buy or only sell. Also, the sig­nal can be invert­ed. The Expert Advi­sor uses the basic con­cepts, breakeven, trail­ing, stop loss and take prof­it, as well as clos­ing by an oppo­site signal.
An impor­tant func­tion — the cor­rect cal­cu­la­tion of risk. It does not have a func­tion of one lot exit, it uses Risk, oblig­a­tory stop loss, based on which lot is cal­cu­lat­ed as allowed loss with the set risk val­ue. Any EA opti­mized with­out risk using a fixed lot, will give obvi­ous­ly incor­rect results. Since dur­ing opti­miza­tion para­me­ters that can increase the bal­ance in the ini­tial his­to­ry inter­val will be select­ed. Then every­thing is sim­ple: hav­ing a large bal­ance and work­ing with a fixed lot, it will be able to pass any amount of his­to­ry! But at the same time, by run­ning the EA at a dif­fer­ent place on the his­to­ry, loss is quite like­ly. There­for accept­ing risks dur­ing opti­miza­tion and use is required! In this case Risk works as fol­lows: 1 means risk­ing 1% of deposit.
The EA includes a built-in pro­gres­sive opti­miza­tion sort­ing func­tion, and it's desir­able to opti­mize using the "Cus­tom max " mode.
Overview of parameters:
OnOp­ti­miza­tion­Sharp " is used for opti­miza­tion in the "Cus­tom max" method for an addi­tion­al account­ing of Sharp ratio.
Mag­ic — the mag­ic num­ber, an arbi­trary integer.
Work Peri­od — the peri­od, on which the

EA

operates.
Risk — risk to enter the mar­ket, set as a per­cent­age of loss of the total deposit, lot is cal­cu­lat­ed rel­a­tive to the stop loss and accept­able loss in case stop loss triggers.
LotRound­ing — lot round­ing (to a required num­ber of dec­i­mal places).
Devi­a­tion — requotes.
Sleeps — wait­ing for posi­tion open­ing, clos­ing or modification.
With­draw — vir­tu­al mon­ey with­draw­al in the tester, as a per­cent­age of the ini­tial deposit.
Sto­pLoss " Stop Loss.
Take­Prof­it — the take prof­it level.
Trail­ing Peri­od — the trail­ing stop period.
Trail­ing Breakeven — breakeven lev­el, if 0 — disabled.
Trail­ing Start — trail­ing start lev­el, if 0 — disabled.
Trail­ing Stop — trail­ing lev­el, if 0 — dis­abled; trail­ing in points, active peri­od based trailing.
Trail­ing­Step Peri­od - peri­od based trailing.
Pro­hib­it new series — if you need to close the cur­rent posi­tion and stop open­ing new ones, enable this option (main­tain­ing posi­tion before clos­ing the

EA

).
WorkOpen­Long — allow to open a long position.
WorkOpen­Short — allow to open a short position.
Work­Close­Long — allow to close a long position.
Work­Close­Short — allow to close a short position.
Inver­sion — entry sig­nal inversion.
Sig­nal­Bar — the bar to start ana­lyz­ing the indi­ca­tor (1 means the first com­plete­ly formed bar).
Lim­itSig­nal " the lim­it for the result­ing signal.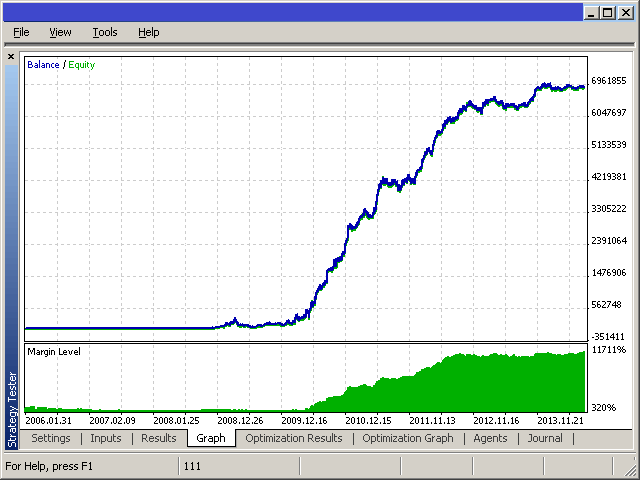 Relat­ed Posts
Expert Advi­sor FractalsTrader
Expert Advi­sor Prof­it or Loss Pad
Expert Advi­sor Fire­Ball Scalping
Expert Advi­sor Hid­den
TP
and
SL
Expert Advi­sor
EURGBP
spot
Expert Advi­sor
EURCHF
spot
Expert Advi­sor Pipsburger
Expert Advi­sor EAmi­croMoney Multi