This Expert Advi­sor helps check­ing the con­nec­tion of your trade accounts and it gen­er­ates a report as a CSV file. Dis­con­nec­tions can be caused by trade serv­er or by client ter­mi­nal.
Many users run their trad­ing EAs on VPS, and this prod­uct help them to find out the cause of dis­con­nec­tion — trade serv­er or VPS.
To do that, open 2 client ter­mi­nals with dif­fer­ent bro­kers on one VPS and run this EA on both 2 ter­mi­nals for some time. Then you can com­pare 2 report files from 2 ter­mi­nals.
An exam­ple is demon­strat­ed on the screen­shot. Import the data from 2 report files into Excel, and com­pare the dis­con­nec­tion time. If the dis­con­nec­tion time is the same, that means that the dis­con­nec­tion is cause by VPS, oth­er­wise the dis­con­nec­tion is cause by the trade serv­er. So you can esti­mate the con­nec­tion qual­i­ty of VPS and trade servers.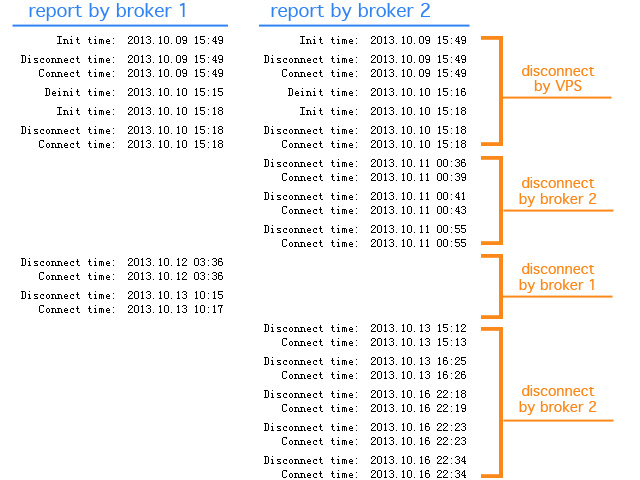 Relat­ed Posts
Expert Advi­sor Likeme­ter expert
Expert Advi­sor Exec­u­tive
EA
Expert Advi­sor
CAP
Saifan Trad­ing
EA
Expert Advi­sor Equi­ty Prof­it­Loss Con­trol
Expert Advi­sor AFScashcard2
Expert Advi­sor Accu­rate Fish­ing Nets
Expert Advi­sor Hid­den
TP
and
SL
Expert Advi­sor Rob­o­t­Adap­tiveChan­nelADX
Expert Advi­sor Robot­W­PR