Pin Bar Trader
This is a sim­ple and free ver­sion of Pin Bar Trad­er.
This version is limited.
You can set the pin bar pips from high to low, so the EA only trades this pin bar and greater.
Exam­ple: You set the pin bar pips to 30 pips. Less than 30 pips pin bars will be ignored. 30 pips and greater pin bars will be trad­ed.
Trade Settings
Lot Size
Stop Loss
Take Prof­it
All list­ed set­tings are cus­tomiz­able.
If a bull­ish pin bar has formed, the EA opens a long order and vice ver­sa.
Full Pin Bar Trad­er is com­ing soon.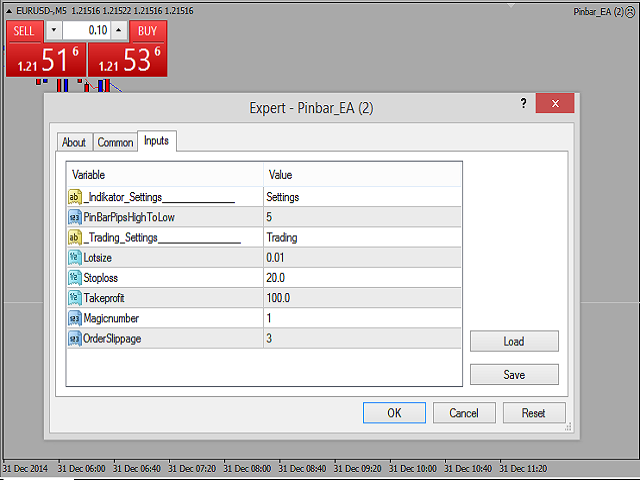 Relat­ed Posts
Expert Advi­sor
PZ
Goldfinch Scalper
EA
Expert Advi­sor News trad­ing
MT4
demo
Expert Advi­sor Neva­da demo
Expert Advi­sor
MCAD
Prb­SAR noise
Expert Advi­sor Breakeven Scalper Free
Expert Advi­sor
PZ
Whale
EA
Expert Advi­sor The Tree
EA
Free
Expert Advi­sor
NEWS
TRADER
MT4
Expert Advi­sor The Stream
Expert Advi­sor
PZ
Trade Man­ag­er