The sig­nal is gen­er­at­ed using stan­dard Gator indi­ca­tor. Gator Oscil­la­tor is based on Alli­ga­tor and shows the degree of convergence/divergence of its bal­ance lines (smoothed Mov­ing Aver­age). The upper his­togram is the absolute dif­fer­ence between the val­ues of blue and red lines. The low­er his­togram is the absolute dif­fer­ence between the val­ues of red and green lines with the 'minus' sign since the his­togram moves downwards.
The EA works with any Forex sym­bol. Opti­miza­tion is per­formed for one week on M1 chart, pre­dict­ed oper­a­tion time before re-opti­miza­tion is also one week. The screen­shots show sam­ple opti­miza­tion and fore­cast­ing. The first para­me­ter (the upper one in the list sort­ed by result) is select­ed for con­fig­u­ra­tion. Opti­miza­tion is per­formed by "Bal­ance max".
The most impor­tant para­me­ter of an Expert Advi­sor is its fore­cast abil­i­ty, or in oth­er words, its actu­al prof­it instead of the one shown dur­ing opti­miza­tion. In order to improve this para­me­ter, you can check an EA by cycli­cal­ly run­ning it through the his­to­ry in two stages. The first stage is opti­miza­tion and sam­pling (accord­ing to one unchange­able rule). The sec­ond one is run­ning itself. Thus, a few runs are required to draw prop­er con­clu­sions. In this case, the inter­val of 1 week is used for opti­miza­tion. 1 week is also used for the fore­cast (check after the opti­miza­tion date). The rigid rule for select­ing opti­miza­tion results is estab­lished. The best opti­miza­tion result is select­ed by "Bal­ance max".
Note: The EA is slow dur­ing optimization!
Para­me­ters:
Peri­od­Work — the peri­od, on which the

EA

operates.
Risk — risk val­ue, at which the mar­ket entry is per­formed (loss val­ue com­pared with the over­all deposit in per­cent­age). The lot is defined rel­a­tive to the stop loss and allow­able loss­es when reach­ing it.
LotRound­ing — lot round­ing (up to dec­i­mal places).
Devi­a­tion — requotes.
Sleeps — wait­ing for posi­tion being opened, closed or modified.
Opti­miza­tion:
Sto­pLoss — 3/1/15
Take­Prof­it — 3/1/15
Sig­nal­Bar — 1/1/4
Inver­sion — from/to
Peri­odSig­nal —

M1

/

M5

Peri­od — 3/1/144
Type­Syg­nal — from/to
JawsPe­ri­od — 3/1/144
JawsShift — 3/1/144
Teeth­Pe­ri­od — 3/1/144
TeethShift — 3/1/144
LipsPe­ri­od — 3/1/144
Lip­shShift — 3/1/144
Method — from/to
Applied­Price — from/to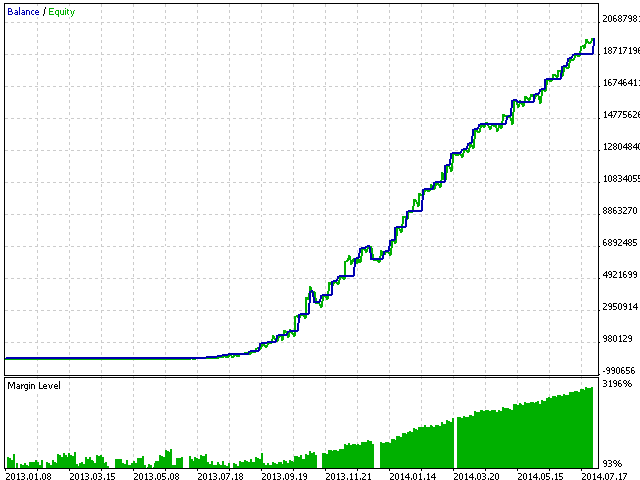 Relat­ed Posts
Expert Advi­sor Three Mus­ke­teers Return
MT5
Expert Advi­sor Grid Har­vester
MT5
Expert Advi­sor
ENS
Pilot
Expert Advi­sor Catch­er profit
Expert Advi­sor EAmi­croMoney
EURUSD
or
GBPUSD
Expert Advi­sor AFS­cash­card Athlete