The basis of the Goldup EA is the mod­ern indi­ca­tor Push­er. Goldup is run­ning based on the "Push­er always in a posi­tion" prin­ci­ple. How­ev­er, it has been sig­nif­i­cant­ly improved, short­com­ings have been fixed, and a new posi­tion entrance sys­tem has been added. This has led to dra­mat­ic results in mar­kets with a vivid trends. Default set­tings XAUUSD(GOLD) H1. Can run on any instru­ment.
Slip­page and requotes are a huge prob­lem in real trad­ing, there is always a delay when open­ing by mar­ket, and a large share of the prof­its is lost. Goldup uses a unique method of posi­tion entry, which com­plete­ly replaces entry by mar­ket. It uses pend­ing lim­it orders, the exe­cu­tion of which is guar­an­teed at the price they were set at.
An impor­tant advan­tage of such an approach pro­vides thou­sands of points of addi­tion­al prof­it, because trades are always opened a few pips bet­ter. Why so? Have you ever seen a can­dle­stick with­out shad­ows? If so, then how often? Now, these shad­ows are also uti­lized — the unique adap­tive algo­rithm adds can­dle­stick open­ing shad­ows to the prof­its.
Do not for­get to leave you feed­back and com­ments, it helps to make the EA bet­ter.
Testing Results
The EA has been opti­mized for XAUUSD, H1 using for­ward test­ing, and test­ed on a real account. It showed amaz­ing sta­bil­i­ty in gold trad­ing.
With aggres­sive mon­ey man­age­ment, the prof­it for 10 years of test­ing was 607,000,000%, max­i­mum draw­down — 80%. The lat­est ~25% of test­ing the robot could not increase lot due to account restric­tions.
Goldup EA:
Works with all deal­ing cen­ters that use the Meta­Trad­er 4 trad­ing plat­form.
Works with both "Instant Exe­cu­tion" and "Mar­ket Exe­cu­tion" bro­kers.
Auto­mat­i­cal­ly deter­mines the num­ber of dig­its in quotes and works with quotes that have any num­ber of dec­i­mal places.
Resis­tant to a tem­po­rary loss of con­nec­tion or a short-term com­put­er shut­down. After start­ing the com­put­er, the Expert Advi­sor will pick up its orders and con­tin­ue trad­ing steadi­ly.
Always works only with its own orders even if you have decid­ed to trade man­u­al­ly in par­al­lel.
Trad­ing con­di­tions:
Trad­ing ter­mi­nal: Meta­Trad­er 4.
Deal­ing cen­ter: any deal­ing cen­ter that sup­ports work­ing with Meta­Trad­er 4.
Cur­ren­cy pair: any.
Time frame: no restric­tion.
Min­i­mum lot: 0.01.
Lever­age: no restric­tion.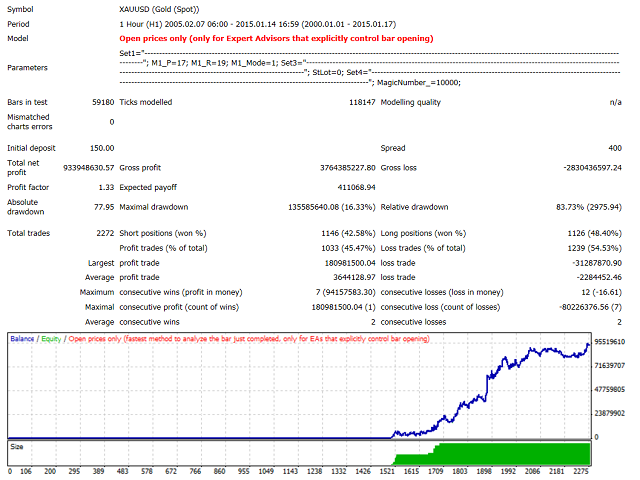 Relat­ed Posts
Expert Advi­sor CamelAv­er­ageLev­el
Expert Advi­sor ObeyThe­Lim­its
EA
Demo
Expert Advi­sor
MQL
Ran­dom
EA
Expert Advi­sor The Stream
Expert Advi­sor Tor­sion
GBPUSD
Expert Advi­sor Meta­Trail Lite
Expert Advi­sor Tar­getEA
Expert Advi­sor Exp Opti­lan
Expert Advi­sor Trade Lev­els free
Expert Advi­sor The Riv­er