Free ver­sion of the grid strat­e­gy! Iden­ti­cal strat­e­gy to the full ver­sion, the only lim­i­ta­tion is the num­ber of posi­tions.
Its goal is to har­vest most out of trend­ing mar­ket (on auto­mat­ic mode) tak­ing advan­tage of cor­rec­tions in trends. It can be also used by expe­ri­enced traders on man­u­al trad­ing. This kind of sys­tem is being used by most suc­cess­ful social traders hav­ing 500+ paid sub­scribers.
Com­bine your trad­ing expe­ri­ence with this auto­mat­ic strat­e­gy! It con­tains grid for GBPJPY that is eas­i­ly scal­able on oth­er cur­ren­cies.
You can also build grid on your own from scratch!
The strat­e­gy also sup­ports stop loss option. You can use equi­ty-based stop loss set­ting per­cent­age of equi­ty to be pro­tect­ed in one trans­ac­tion.
Test it on

GBPJPY

06.2012 — 11.2013 at any time­frame (every tick).
Oth­er pairs:

CHFJPY

,

EURJPY

,

CADJPY

,

USDJPY

.
Can be also test­ed on any oth­er cur­ren­cy pair with a trend­ing mar­ket (for exam­ple,

GBPUSD

06.2013–11.2013) or oscil­lat­ing mar­ket. Bet­ter would be using more tight grid on

GBPUSD

and fol­low day's trend if not in oscil­la­tion mode. In oscil­la­tion mode use 8–16 MAs to oscil­late around.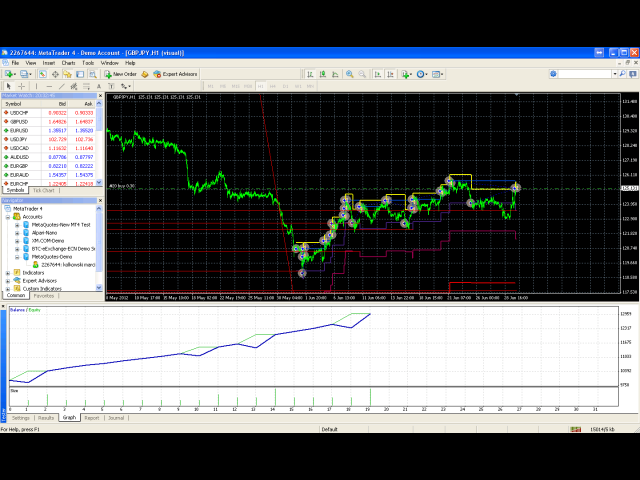 The Expert Advi­sor is very easy to con­fig­ure. Send me pri­vate mes­sages for more details or watch the Meta­Trad­er 4 ver­sion video tuto­r­i­al.
All options have a long descrip­tion giv­ing an exam­ple of what can be accom­plished with cer­tain options.
Become a suc­cess­ful sig­nal provider with tons of sub­scrip­tions or sim­ply trade your own account and make big prof­its with a well-known sys­tem.
Watch YouTube pre­sen­ta­tion and screen-shots.
JPY pairs are good for auto­mat­ed trad­ing as Japan is fac­ing default and inflat­ing its cur­ren­cy (yet it does not guar­an­tee suc­cess).
The strat­e­gy has both Meta­Trad­er 4 and Meta­Trad­er 5 ver­sions.
Relat­ed Posts
Expert Advi­sor TimeScalper Free
Expert Advi­sor Auto­mat­ic Equi­ty Man­ag­er
Expert Advi­sor Winds And Storms
MT4
Free
Expert Advi­sor Morn­ing Trade Demo
Expert Advi­sor Breakeven Scalper Free
Expert Advi­sor Exp Aver­age Trail­ingstop
Expert Advi­sor
MY
TRADES
MT4
Expert Advi­sor ArgoAv­er­ager
Expert Advi­sor Trail­ing­By­Movin­gAv­er­ages
Expert Advi­sor Hol­i­day Trad­er
EURUSD