Each of us has a devel­oped trad­ing tech­nique, and the key points of every tech­nique are Stop Loss and Take Prof­it lev­els.
This sim­ple EA is designed to keep an eye on whether each item has required SL and TP.
Parameters
minTP - min­i­mum

TP

that we

MUST

set to any posi­tion,
minSL - min­i­mum

SL

that we

MUST

set to any posi­tion,
suf­fix - if your bro­ker adds a "tail" to the sym­bol / instru­ment,
Wait­Sec - the inter­val between the checks.
This handy tool is for EVERYONE!
How many times did the absent of SL or TP cause a change in your thought-out plan? So, you can for­get about these sit­u­a­tions!
For each item with­out any set­tings, you will get an alarm as long as you do not set your min­i­mum assumed para­me­ters SL and TP. Thanks to this, before you leave the com­put­er, you will be sure that you stick to your trad­ing plan, which is a very impor­tant ele­ment in Forex trad­ing. Just copy the attached file to Experts fold­er and drag it on ANY chart.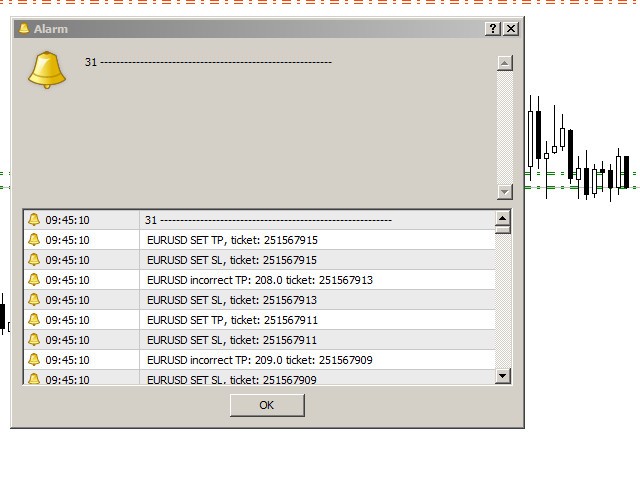 Relat­ed Posts
Expert Advi­sor Neva­da demo
Expert Advi­sor
PZ
Grid Trad­ing Lite
Expert Advi­sor Bala Trade Pad Free
Expert Advi­sor Sta­tis­tic Trad­er Demo
Expert Advi­sor Shree Trad­er
Expert Advi­sor
NEWS
TRADER
MT4
Expert Advi­sor Trans­ac­tion Repeater Demo
Expert Advi­sor Dou­ble­Con­trol
Expert Advi­sor The Riv­er
Expert Advi­sor CloseDele­teEA