The EA places vir­tu­al sup­port and resis­tance lev­els and waits until these lev­els are bro­ken through. They are chang­ing with the price move­ments. The robot will not trade if the price maun­ders or moves in an unpre­dictable man­ner. But when the mar­ket revives, it takes up a ready posi­tion and once the price moves abrupt­ly, the EA has a stran­gle­hold over it and beats the bag out of the mar­ket.
The robot­'s strat­e­gy allows not to wor­ry about your funds. Stop order is placed close to the order in case of sharp rever­sal of the price, and prof­it order moves away from the price all the time and allows the prof­it to grow. Usu­al­ly the order is closed by trail­ing stop which fol­lows the price in such a man­ner that even one prof­itable order can com­pen­sate dozen of unprof­itable ones. But a rule of thumb states that there are more prof­itable orders than unprof­itable ones. This explains the robot­'s high prof­itabil­i­ty and low draw­down.
The strat­e­gy works from 2008. Until this year the strat­e­gy did not cor­re­spond to mar­ket con­di­tions.
The

EA

trades dur­ing news time
This is a mul­ti-cur­ren­cy robot which works on ten cur­ren­cy pairs at a time
Set auto­mat­i­cal­ly
Works in a tur­bo mode which ensures the

EA

high-speed per­for­mance
Does not col­lect draw­down
Eas­i­ly opti­mized. Usu­al­ly only two para­me­ters need to be opti­mized. They are Dis­tance and RiskPer­cent. The first para­me­ter is respon­si­ble for accu­ra­cy of sig­nals, and the sec­ond one — for prof­itabil­i­ty
Parameters
Sym­bols — num­ber of active pairs from 1 to 10 as a drop-down list:

One_pair
Two_pairs
Three_pairs
Four_pairs
Five_pairs
Six_pairs
Seven_pairs
Eight_pairs
Nine_pairs
Ten_pairs

Tools — list of defualt cur­ren­cy pairs:

GBPUSD

/

EURUSD

/

USDJPY

/

USDCHF

/

USDCAD

/

NZDUSD

/

AUDUSD

/

EURJPY

/

EURGBP

/

EURCHF

— the robot reads the list from left to right
Total — num­ber of dig­it in a sym­bol. Sup­pose, that

EURUSD

has 6 dig­its and _

EURUSD

has 7 dig­its,

GOLD

has 4 dig­its, etc. You can­not enter sym­bols with dif­fer­ent num­ber of dig­its in the above­men­tioned list of sym­bols. If you break this rule in the mid­dle of the list, the

EA

will trade using the first read sym­bols till the error. If the error occurs at the top of the list, the robot will trade using the cur­rent sym­bol
Dis­tance — para­me­ter to place support/resistance lev­els
Sto­pLoss — stop loss lev­el in points
RiskPer­cent — risk for auto­mat­ed mon­ey man­age­ment
Slip­page — max­i­mum devi­a­tion from the request­ed price
Trail­Start — dis­tance from the order to enable trail­ing stop orders
Use­Time — trad­ing by time (serv­er time is applied)
Begin­Time — start trad­ing
End­Time — end trad­ing
Spread — max­i­mum allowed spread
order_magic — stamp of an Expert Advi­sor (iden­ti­fi­er)
Com­ments — dis­play infor­ma­tion on the chart
Use­Virt­Sto­pLoss — use vir­tu­al stop orders
Recommendations
It is rec­om­mend­ed to use

VPS

. Accord­ing to the strat­e­gy the robot has to have good serv­er con­nec­tiv­i­ty
It is bet­ter to trade with a fixed spread
Rec­om­mend­ed cur­ren­cy pairs are spec­i­fied by default
Rec­om­mend­ed peri­od is

H1
Load his­to­ry of all used cur­ren­cy pairs before test­ing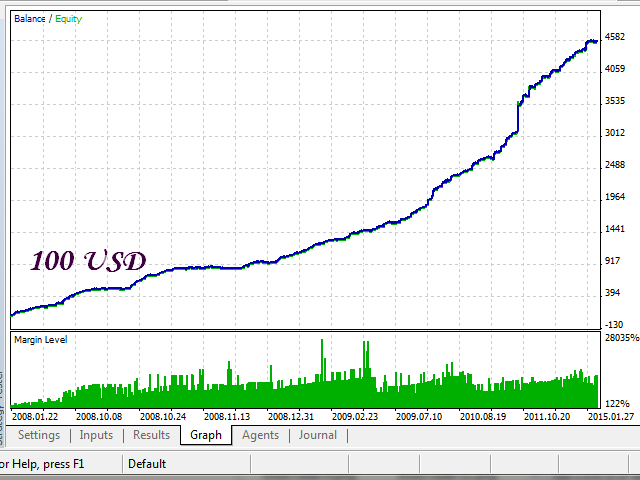 Relat­ed Posts
Expert Advi­sor RobotR­SI
Expert Advi­sor Mul­ti Expert Sys­tem
TRADING
Expert Advi­sor Robot­Price­Trend
Expert Advi­sor
FORTS
MAX
Expert Advi­sor Triple Mov­ing Aver­age tfmt5
Expert Advi­sor Scalper Bollinger Bands
Expert Advi­sor
EURGBP
spot
Expert Advi­sor Arbi­trageS­ta­tis­tic Hedge
Expert Advi­sor
PZ
Trade Man­ag­er Pro
Expert Advi­sor ExpertRe­gre­sion