It is EA for bor­ing mar­ket or if you are bored. Catch the fly on a chart. 10 lev­els of dif­fi­cul­ty. The fly is land­ing on chart when tick occurred. To catch the fly, click on it. You can skip lev­els by chang­ing time frame.
Also with Joke EA you can test indi­ca­tor KL Trend lines Buy Sell Close for KLVOM.
If you have any ques­tions or sug­ges­tions, feel free to let me know. Feed­back (espe­cial­ly improve­ment ideas) are most wel­come.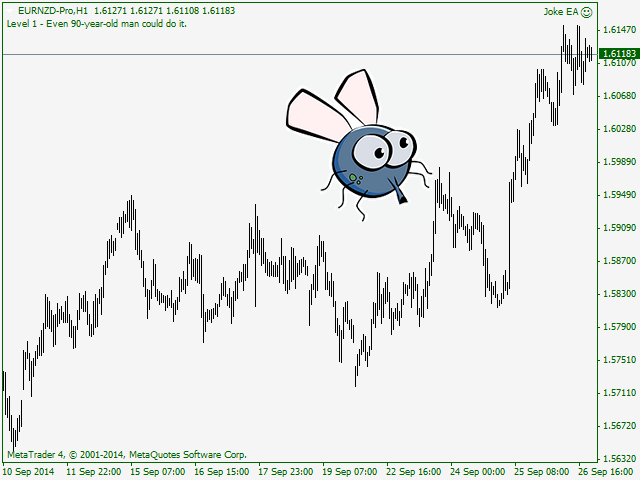 Relat­ed Posts
Expert Advi­sor
PZ
Equi­ty Guardian
Expert Advi­sor
AVT
Tick Saver Free
Expert Advi­sor Breakeven Scalper Free
Expert Advi­sor Show Trades
Expert Advi­sor Trail­ing­By­Par­a­bol­ic­SAR
Expert Advi­sor TimeScalper Free
Expert Advi­sor Zoomio Eco­nom­ic News Updater Basic
Expert Advi­sor The Wolf Of Wall Street
Expert Advi­sor
MQL
Ran­dom
EA
Expert Advi­sor
MT4
Lite Trade Man­ag­er