Advi­sor uses a unique strat­e­gy to sup­port mar­ket and pend­ing orders mod­i­fi­ca­tion. Works even with low deposits. Rec­om­mend­ed deposit — 1 000 USD (1 000 USD cent). Advi­sor does not use in high-risk trad­ing trad­ing strate­gies like Mar­tin­gale, and does not use any tech­ni­cal indi­ca­tors. Works direct­ly with the price of 4- and 5‑sign. Option­al­ly, can be used two dif­fer­ent types of trail­ing stop: first trail­ing of the bar open­ing a mar­ket order, and then goes to a min­i­mum / max­i­mum of the pre­vi­ous bar.
Test mode "Every tick" at 99.9% mod­el­ing qual­i­ty. At a low­er accu­ra­cy qual­i­ty of quo­ta­tions nor­mal test will not work.
Recommendations
Time­frame — H1. Before installing the EA on a real account, make sure to prop­er­ly set the para­me­ters. Per­form the test on the stock with 99.9% qual­i­ty over the last year. Use a bro­ker with tight spreads and stop lev­els. If you are in doubt about choos­ing a bro­ker before pur­chas­ing con­tact me.
Parameters
MaxRisk — max­i­mum risk per trade;
Lots — fixed trad­ing lot if MaxRisk = 0;
Take­Prof­it - Take Prof­it in points;
Sto­pLoss — Stop Loss in points;
Prof­it­Close -% prof­it from the deposit to cov­er mar­ket orders;
Max­Draw­down -% draw­down of the deposit to the clos­ing mar­ket orders;
Trail­ingStart — start of trail­ing stop;
Trail­ing­Step — step of trail­ing stop;
TimeM­o­d­i­fy­Chan­nel — the mod­i­fi­ca­tion of the price channel;
Steep­Mod­i­fy­Chan­nel — step from the price for the price channel;
PriceS­teepOrder — step from the price for pend­ing orders;
ClosePendin­gOrders — delete the oppo­site order at the open market;
TimeS­tart — start of trade;
TimeFin­ish — end time of trade;
Days of the week - if true, trad­ing is allowed;
Mag­ic — mag­ic number;
Com — com­ment on the transactions;
Show­In­fo — show / hide infor­ma­tion on trade;
Text­Col­or — text color.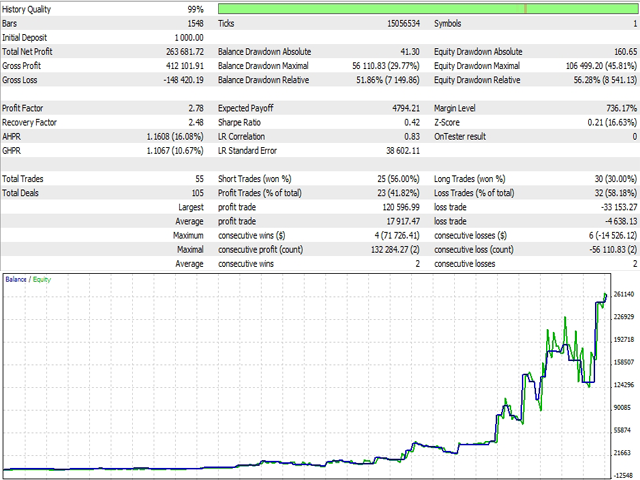 Relat­ed Posts
Expert Advi­sor Catch­er profit
Expert Advi­sor
PZ
Tur­tle Trad­ing
EA
Expert Advi­sor
BSN
Mul­ti Bollinger Light
Expert Advi­sor Universum
Expert Advi­sor
EURGBP
spot
Expert Advi­sor CloneIt5 Trade Copier
Expert Advi­sor Break­out Strategies
Expert Advi­sor
EA
non stan­dard trade on
Expert Advi­sor Tick Scalper