This Mar­ket Watch gives 7 details on all major and cross pairs. At the Top, there is a list of time­frame but­tons.
The default time­frame is D1.
This free ver­sion works only for 6 pairs. For all pairs capa­bil­i­ty, buy the full ver­sion.
The left-most col­umn is a list of Sym­bols.
To its right, Bid Price, Spread, Open price, High price, Low price, Range and Gain are dis­played in a con­sec­u­tive order in the par­tic­u­lar Time Frame you have select­ed at the top.
It helps to get a quick view of what pairs are mov­ing upward, down­ward or rang­ing and to what extent (in many time­frames).
It also helps in pair selec­tion for trad­ing.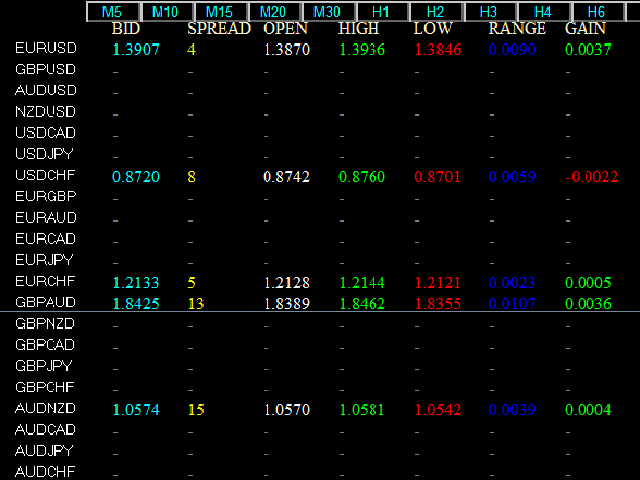 Relat­ed Posts
Expert Advi­sor Clou­dAt­las
Expert Advi­sor CloneIt4 Demo Trade Copi­er
Expert Advi­sor Show Trades
Expert Advi­sor Grid Har­vester
MT4
Free
Expert Advi­sor
CAP
Grid Man­ag­er
DEMO
Expert Advi­sor The Wolf Of Wall Street
Expert Advi­sor Close At Prof­it Extend­ed
Expert Advi­sor
AVT
Tick Saver Free
Expert Advi­sor Smart­Trail­ing
Expert Advi­sor The Stream