This is the Demo ver­sion of the MarkovChains EA, which counts the past bars for rel­e­vant price pat­terns and cal­cu­lates the up and down price action prob­a­bil­i­ties. The full ver­sion can count bars for up to 5 chains and can work with every asset. It cat­e­go­rizes the price action into 8 groups with 10 pips incre­ments. In the full ver­sion groups can be cus­tomized.
The demo can count just 3 chains for demon­stra­tion pur­pos­es. The demo ver­sion can look up to 1000 past peri­ods for pat­tern search while in the full ver­sion this num­ber is cus­tomiz­able.
The full ver­sion of the EA can show you the sig­nals with arrows, can alert you to buy/sell or do the job for you and trade auto­mat­i­cal­ly. Demo ver­sion can only show the sig­nals. For your con­ve­nience it prints rel­e­vant infor­ma­tion on the screen. The upper right cor­ner shows you the past and cur­rent price action via the groups with 10 pips incre­ments (e.g., B3: ‑200/-100 means on third past bar prices decreased 10 to 20 pips). B0 is the cur­rent bar.
The low­er right cor­ner shows the pat­tern counts and the pre­dict­ed prob­a­bil­i­ties. First two lines are the num­ber of pat­terns count­ed on that group. Pu and Pd are the pre­dict­ed prob­a­bil­i­ties for up and down price actions.
For the full ver­sion and the avail­able inputs see the MarkovChains EA page.
Demo EA only works on demo accounts.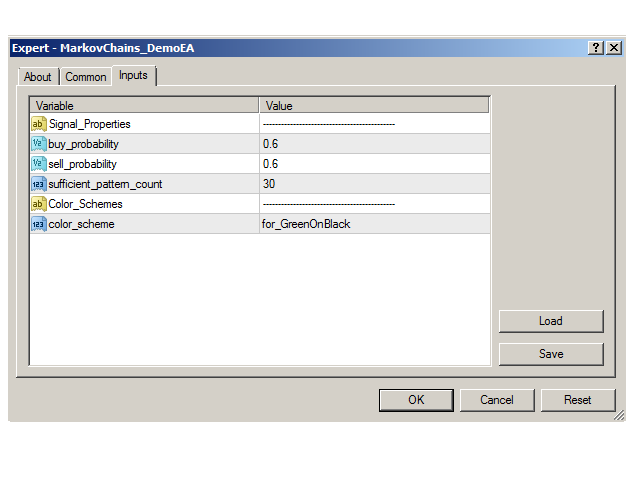 Relat­ed Posts
Expert Advi­sor Assis­tant Scalper Demo
Expert Advi­sor ArgoAv­er­ager
Expert Advi­sor Close All
Expert Advi­sor BeShoot Email
Expert Advi­sor
EXECUTOR
FREE
Expert Advi­sor
PZ
Trade Man­ag­er
Expert Advi­sor
RUSH
Free
Expert Advi­sor Exp
COPYLOT
CLIENT
for
Expert Advi­sor Shmen­dridge
PAM
Car­rot for