The Mar­tin­gale BB SMA EA trades by sig­nals of the Sim­ple Mov­ing Aver­age (SMA) and the Bollinger Bands (BB) indi­ca­tors. The Stop Loss lev­el for the first and next orders is set accord­ing to para­me­ters of the BB indi­ca­tor when you open the first posi­tion.
Mar­tin­gale sys­tem, which pro­por­tion­al­ly increas­es the trade vol­ume accord­ing to set para­me­ters, is applied when you open a trade.
The EA is opti­mized for EURUSD, M30. You should attach the EA to M30 EURUSD chart and allow auto­mat­ed trad­ing to let the oper­a­tion of the Expert Advi­sor.
Adjustable para­me­ters in the free ver­sion:
Magic_index " Mag­ic num­ber assigned to the first trade; Magic_index+n is assigned to next trades, where n is a num­ber of opened posi­tions.
Max_order " Max­i­mum amount of opened posi­tions but not greater than 10; mar­tin­gale is applied;
Oth­er para­me­ters can­not be changed. They are set by default:
Risk_money_deposit = 500;
Profit_percent_risk = 7;
Period_SMA = 12;
Period_BB = 85;
Deviat_BB = 2;
Time­frame for the free ver­sion is M30.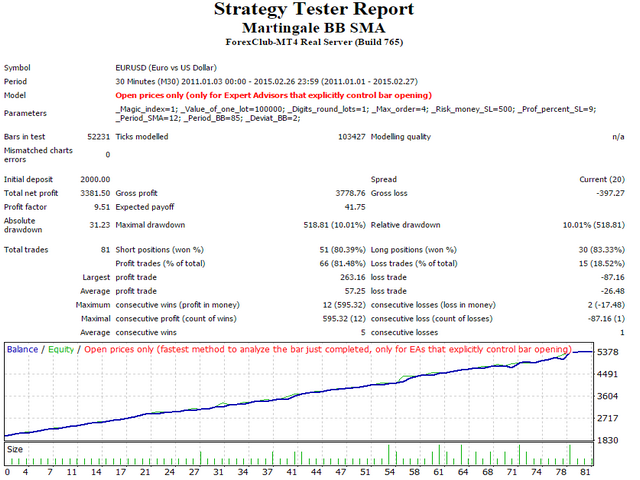 Relat­ed Posts
Expert Advi­sor Demo Price Action Lev­els
Expert Advi­sor Vir­tu­al Col­lid­er Man­u­al
USDCHF
Expert Advi­sor Grid Har­vester
MT4
Free
Expert Advi­sor Roman5 Push Noti­fi­ca­tions
Expert Advi­sor
DI
Assis­tant Lite
Expert Advi­sor Sta­tis­tic Trad­er Demo
Expert Advi­sor Bala Trade Pad Free
Expert Advi­sor Uni­ver­sal Par­tial Close Demo
Expert Advi­sor Smart­Trail­ing
Expert Advi­sor
BLOG
REPORT
FREE