The EA is ded­i­cat­ed to EURUSD for a peri­od before open­ing or in the begin­ning of the Euro­pean ses­sion. The EA tracks false sig­nals to the trend and works against them.
Default para­me­ters are 7:00 " 9:30 (time of MT4 ter­mi­nal). But you can set any oper­a­tion time. The EA is ful­ly auto­mat­ed. Designed for the mar­ket with low volatil­i­ty.
We do not rec­om­mend using the EA when impor­tant news are released or essen­tial macro­eco­nom­ic data are pub­lished. The oper­a­tion prin­ci­ple is based on the method of dif­fer­en­ti­a­tion of price change curve in time. The EA does not trade in the Strat­e­gy Tester. (The algo­rithm works in real time and does not work on his­tor­i­cal data.)
Works on 5‑minutes chart. This is impor­tant as the algo­rithm takes the vol­ume into account.
When open­ing an order the EA sets pure­ly pro­tec­tive (tech­ni­cal) stop loss and take prof­it, as it clos­es a deal by itself depend­ing on changes in price or vol­ume.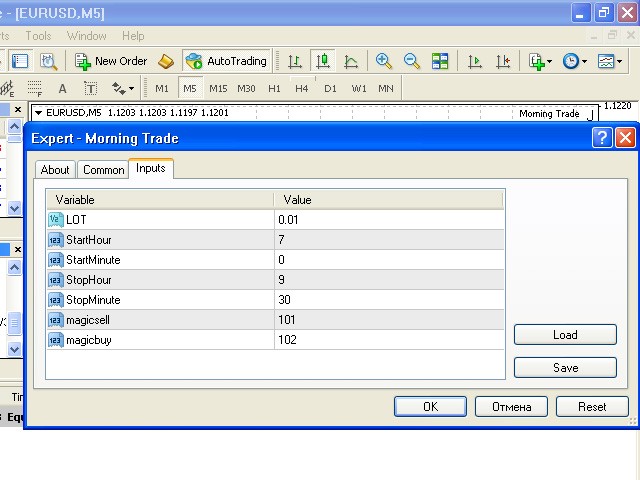 Relat­ed Posts
Expert Advi­sor Trans­ac­tion Repeater Demo
Expert Advi­sor Smart­Trail­ing
Expert Advi­sor Breakeven Scalper Free
Expert Advi­sor
MACD
EMA
nois
Expert Advi­sor Assis­tant Trad­er Demo
Expert Advi­sor TrendLinesMT4
Expert Advi­sor
BLOG
REPORT
FREE
Expert Advi­sor Par­a­bol­ic
SAR
test
Expert Advi­sor CloneIt4 Demo Trade Copi­er