News Trad­er Pro is a unique robot that allows you to trade the news by your pre-defined strat­e­gy. It loads every piece of news from sev­er­al pop­u­lar Forex web­sites. You can choose any news and pre­set the strat­e­gy to trade it, and then News Trad­er Pro will trade that news by select­ed strat­e­gy auto­mat­i­cal­ly when the news comes.
News release gives oppor­tu­ni­ty to have pips since the price usu­al­ly has big move at that time. Now, with this tool, trad­ing news becomes eas­i­er, more flex­i­ble and more excit­ing than ever. No wait­ing, no miss­ing, no con­fus­ing any­more. Just set­up for impor­tant news once a week, and this tool will trade all those news exact­ly as you planned.
Lim­i­ta­tion: This demo ver­sion only shows low-impact news events and does not allow you to set­up a strat­e­gy. To unlock those fea­tures, please check the full ver­sion at:Â News Trad­er Pro
Ref­er­ence: If you only need to load the news (with­out trade), you can check News Loader Pro.
Features
Con­tains all the fea­tures of News Loader Pro.
Builds your own strat­e­gy for each piece of news with very flex­i­ble para­me­ters.
Sup­ports five advanced strate­gies with a lot of con­trol para­me­ters (

SL

,

TP

, Trail­ing, Grid inter­val, Lot­size scale, etc.).
Trade of each piece of news is oper­at­ed inde­pen­dent­ly and does not con­flict with each oth­er.
Uses advance tech­nol­o­gy to min­i­mize the price slip­page at news release.
Trades all news with all symbols/pairs with only one attached chart, no need to attach the robot to every chart.
Allows to adjust and can­cel the trad­ing plan after set­up.
Straight­for­ward descrip­tion and illus­tra­tion inside the tool, so that even an ama­teur can under­stand the strate­gies.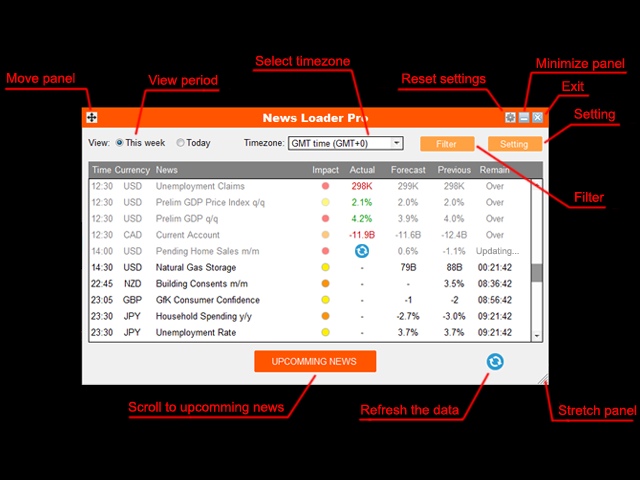 1. News Loading Features
Con­tains all the fea­tures of News Loader Pro (check it for details).
2. News Trading Features
Click­ing on any ahead news to set­up the trad­ing plan for it. The fol­low­ing strate­gies are sup­port­ed:
1. Pre­dict the news
This strat­e­gy is very sim­ple, just pre­dict the mar­ket move direc­tion after news release and then set it to open Buy or Sell order before news release. This method can max­i­mize the prof­it and avoid slip­page because an order is opened when mar­ket is still silent, but it also can whip­saw your account if you choose the wrong direc­tion in big news. This is for those who like to take risk.

2. Pend­ing trap

This is typ­i­cal strat­e­gy that places two oppo­site pend­ing stop orders before news release to catch the break­out. Regard­less of direc­tion of the price move, we expect a large jump and it will trig­ger one of the pend­ing orders. In some rare cas­es, some traders may want to use lim­it orders instead of stop ones, to catch the rever­sion of a price move. In this strat­e­gy, set­ting a rea­son­able SL, TP and trail­ing SL is crit­i­cal.

3. Grid pend­ing trap

Sim­i­lar to pend­ing trap strat­e­gy, but grid pend­ing trap strat­e­gy sets a series of pend­ing orders (like a grid). This strat­e­gy catch­es the price move in small­er parts and sums them up in the final result.

4. Mar­tin­gale pend­ing trap

Also known as "Nev­er lose again" strat­e­gy, mar­tin­gale strat­e­gy uses lot size increase to cov­er its pre­vi­ous loss­es (if any). This is great when com­bin­ing with news, when the price usu­al­ly has big move. How­ev­er, do not set the ini­tial lot size too large since if there are spikes on the news, your account will be mar­gin called before price moves in one direc­tion.

5. Base on actu­al report

This strat­e­gy waits until the actu­al report of the news is loaded, then com­pare it to forecast/previous data in order to decide the direc­tion of the trade. This strat­e­gy is suit­able for impor­tant news that impact the mar­ket in mid to long-term.
Fixed pend­ing: Pend­ing orders will stand con­stant­ly, but may be trig­gered at the wrong moment by price's fluc­tu­a­tion before news release.
Float­ing pend­ing: Pend­ing orders will always keep a dis­tance from the cur­rent Bid/Ask until news release, so they are usu­al­ly trig­gered by news impact only.
At some para­me­ters, set­ting val­ue by zero (0) means not set (

SL

,

TP

, Trail­ing, Can­cel time) or unlim­it­ed (mar­tin­gale loop times).
Warn­ing: News trad­ing is risky. It depends a lot on your bro­ker's order fill­ing qual­i­ty. This tool is not a ful­ly auto­mat­ed robot. It only trades on your cus­tom strat­e­gy. You take the respon­si­bil­i­ty for the trad­ing result made by your own set­up strat­e­gy.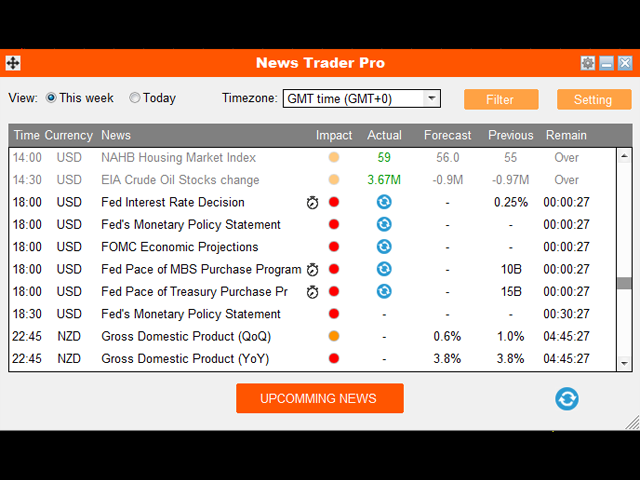 Relat­ed Posts
Expert Advi­sor Smart­Trail­ing
Expert Advi­sor OlimpiaFxRal­ly­DE­MO
Expert Advi­sor
NEWS
TRADER
MT4
Expert Advi­sor
PZ
Whale
EA
Expert Advi­sor TrendLinesMT4
Expert Advi­sor Hedge Exten­tion
Expert Advi­sor Trail­ing­By­Par­a­bol­ic­SAR
Expert Advi­sor
RUSH
Free
Expert Advi­sor Trade Lev­els free
Expert Advi­sor Mov­ing Aver­age N