This is a Mul­ti-Pair Expert Advi­sor with very accu­rate 5 exclu­sive strate­gies for Forex Mar­ket!
The EA's con­cept lays in recog­ni­tion the best pair to open orders. The EA com­pares 28 pairs from EUR, AUD, NZD, CAD, JPY, CHF, USD, GBP cur­ren­cy com­bi­na­tions.
Demo ver­sion lim­it­ed con­fig­u­ra­tion set­up
Expert Advisor Parameters
Open Trades with spread less than: 15 (default). The

EA

will not open orders with pairs hav­ing spread high­er than the para­me­ter val­ue
Mar­ket Trend Min­i­mum per­cent­age: 50 (default). More than 50% in Mar­ket Trends means that the mar­ket is hav­ing a good bias moment to open orders. Less than 50% the trends means that the mar­ket is very noisy, so it is not a good moment to open an order. (You can dis­able this fil­ter adding 0 val­ue in prop­er­ties)
Ral­ly Pairs min­utes back: 40 (default). This func­tion gives you a sum and an aver­age val­ue of the last "

XX

" min­utes in pips for each pair. This val­ue is for meant for TradeR­al­ly strat­e­gy. You can choose a val­ue from the last 5 to 1440 min­utes. Could be set­up with any minute val­ues, like 13, 47, 55, 178 min­utes back. Time Frame num­bers, like 5, 15, 60, etc. do not mat­ter
Lot Size:

XX

: the size of lots used by the

EA

for open­ing orders
Stop loss for each order in pips: 0 (default). This func­tion adds a fixed Stop Loss val­ue to every opened order
Take Prof­it for each order in pips: 0 (default). This func­tion adds a fixed Take Prof­it val­ue to every opened order. Neg­a­tive amount to close all opened trades (-xxxx) and prof­it amount prof­it to close all opened trades (+xxxx). Exam­ple: if you set Prof­it Amount to 40, all orders will be closed when you have 40$ pos­i­tive sum of all orders in equi­ty. And neg­a­tive amount ‑100 will close all opened orders in neg­a­tive sum of 100$ in your equi­ty
The

EA

needs to be acti­vat­ed and run all time. If you use

EA

with the option "Close at equi­ty val­ues pos­i­tive or neg­a­tive" you may need to acti­vate a

VPS

.
Use Only Time win­dows below:
False:

EA

will be actived for open­ing orders all time.
True:

EA

only will be active and open­ing orders in time of Lon­don, N.York and Tokyo mar­kets oper­a­tion (you need to con­fig­ure time ranges depend­ing on your bro­ker time). Rec­om­mend­ed useL: 30 min time range (win­dow open) in 10 to 15 min­utes after mar­kets open.
Five Avail­able strate­gies: FALSE — not to apply this strat­e­gy, or TRUE — to apply this strat­e­gy.
TradeR­AL­LY: The list of the most speed­ing or win­ning pairs in the last

XX

min­utes from Ral­ly Pairs Min­utes Back.
Trade­TREND: Very exclu­sive and secret Trend Pow­er Per­cent­age indi­ca­tor uses

MTF

Mul­ti indi­ca­tor to know accu­rate­ly trends direc­tions for each pair and rec­og­nize the best moment to open a trade.
TradeRe­trace: A price is always going some­where and doing highs and lows in the

D1

can­dle, but also it does retraces. In this strat­e­gy the

EA

opens orders when retraces are fin­ished and the price is going back again to the main trend.
Trade­Olimpia: If you acti­vate this strat­e­gy the

EA

will open orders fol­low­ing some pro­fes­sion­al and clas­sic strate­gies, for exam­ple

RSI

cross­es,

EMA

Cross­es, Sto­chas­tic, etc. All clas­sic indi­ca­tors have a very secret set­up for avoid­ing drawn­downs in opened orders.
Trade­Fam­i­ly: You can know real sit­u­a­tion of the "Pairs fam­i­lies" with it trends in the

D1

can­dle and minor Time Frames. Exam­ple:

EUR

100% in a Piars Fam­i­ly means that the Euro Fam­i­ly is very strong against 7 oth­er cur­ren­cies, so the

EA

opens

BUY

on EURxxx pairs.
The best way to use the EA is to use it as semi­au­to­mat­ic EA which watch­es the screen, so the EA opens orders and you close all orders with the excel­lent "CLOSE ALL" but­ton. STRONGLY RECOMMENDED! —– after that DISABLE YOUR EA!—-DON'T OVER TRADE! —-
The best moments to use this EA are Lon­don mar­ket time and NY/London time over­lays.
Usu­al rec­om­men­da­tion is not to use the EA dur­ing big impact news and slow mar­ket.
Note
You don't have to wor­ry in which TF or chart pair add the EA. The EA is pro­grammed to use all includ­ed pairs (28). Its con­cept lays in recog­ni­tion the best pair to open orders.
The EA can NOT show his­to­ry or do back test­ing because it's using real time val­ues. You can not do back test­ing.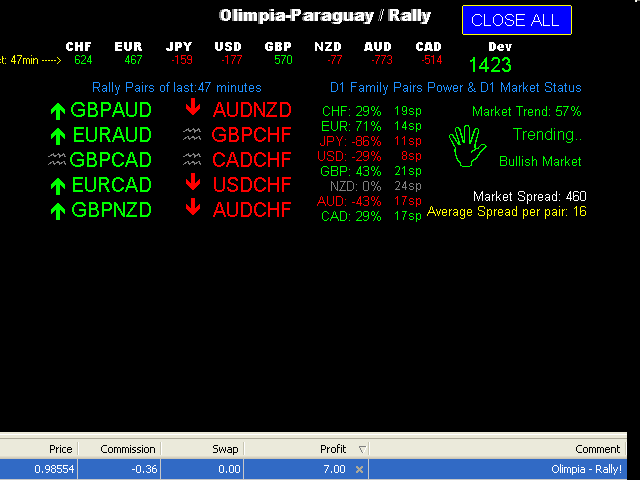 Relat­ed Posts
Expert Advi­sor Tar­getEA
Expert Advi­sor Smart­Trail­ing
Expert Advi­sor Test­ing Hon­est Pre­dic­tor
Expert Advi­sor CloseDele­teEA
Expert Advi­sor Exp
COPYLOT
MASTER
for
Expert Advi­sor
PZ
Equi­ty Guardian
Expert Advi­sor Roman5 Push Noti­fi­ca­tions
Expert Advi­sor
USD
TRADER
MT4