Pilot is a trad­ing robot for the Meta­Trad­er 5 ter­mi­nal devel­oped by the 'Wel­come to Prof­it' com­pa­ny. It com­bines the fine­ly cho­sen meth­ods of tech­ni­cal analy­sis and a con­trol­ling arti­fi­cial intelligence.
The sys­tem is based on the mod­els of neur­al net­works which pro­vide the pos­si­bil­i­ty of rule selec­tion by the sys­tem. The trad­ing sys­tem in this case is not a set of rigid rules, but a method­ol­o­gy for ana­lyz­ing input data (time series of prices and vol­umes) aimed at iden­ti­fy­ing pat­terns. The dis­tin­guish­ing fea­ture of this algo­rithm is the pos­si­bil­i­ty of rapid "adjust­ment" to the cur­rent mar­ket situation.
The main advan­tage of the robot is its insen­si­tiv­i­ty to the bro­ker's con­di­tions, the speed of trade exe­cu­tion and oth­er details, which are so impor­tant for scalp­ing based robots. As a result, the robot shows qui­et, non-aggres­sive intel­lec­tu­al trading.
The sys­tem is ful­ly auto­mat­ed, ready to use and does not require any con­fig­u­ra­tion. The neur­al net­work has been trained on a spe­cial data sam­ple from Jan­u­ary 2008 to May 2014, so the demon­stra­tion test­ing of the sys­tem was car­ried out on data from May 1, 2014 up to now.
Hour ticks of indi­ca­tor val­ues are used as input data.
Conventionally, the algorithm operation can be divided into several stages:
For­ma­tion of input data arrays for each of the indi­ca­tors with a fixed win­dow of his­to­ry depth
Send­ing them to the neur­al network
Data pro­cess­ing by the neur­al net­work to obtain a group of out­put signals
Post-pro­cess­ing of the out­put data using a group of deci­sion rules
Deci­sion to buy/sell/out (buy — open a long posi­tion, sell — open a short posi­tion, out — do not do anything)
Fea­tures:
Rec­om­mend­ed account type: any
Spread size: This is not a scalp­ing trad­ing strat­e­gy, there­fore spread size does not matter.
Quotes: 5 dec­i­mal places
Order exe­cu­tion type: The sys­tem is not sen­si­tive to the order exe­cu­tion speed, since it is set up for medi­um term trading
Lever­age: 1:100
Sym­bol:

EURUSD

Time­frame:

H1

StopLoss\TakeProfit: Not used, since it may inter­fere with the net­work operation
The setup panel has only two components:
A method for deter­min­ing the lot size (fixed, % of the balance)
Val­ue (when the fixed lot is used — the num­ber of lots / when choos­ing % of the balance — %)
Recommendations on how to improve the results and reduce the risk:
It is rec­om­mend­ed to turn the

EA

off 15 min­utes before impor­tant news releas­es (since this robot ver­sion does not include fun­da­men­tal analy­sis), the rec­om­mend­ed pause in trad­ing after the news is 2 hours;
Using the per­cent of cap­i­tal or fixed lot can be changed depend­ing on the cur­rent state of the mar­ket (use fixed lot for high volatil­i­ty and per­cent­age for a qui­et market);
Rec­om­mend opti­miza­tion para­me­ter: lot size.
Please note that increas­ing the prof­it you increase trad­ing risks!
Recommendations on usage:
Man­u­al deal opening/closing is not sup­port­ed when the

EA

is run­ning (this is required for cor­rect oper­a­tion of the neur­al network);
Increas­ing the vol­ume of an open order is not recommended;
Keep an order open for the week­end only tak­ing into account the impact of the news in the sub­se­quent work­ing day.
Test­ing on the data from 01.01.2008 to 01.05.2014 is not rec­om­mend­ed, since this is a train­ing peri­od. In this case test­ing will be incorrect.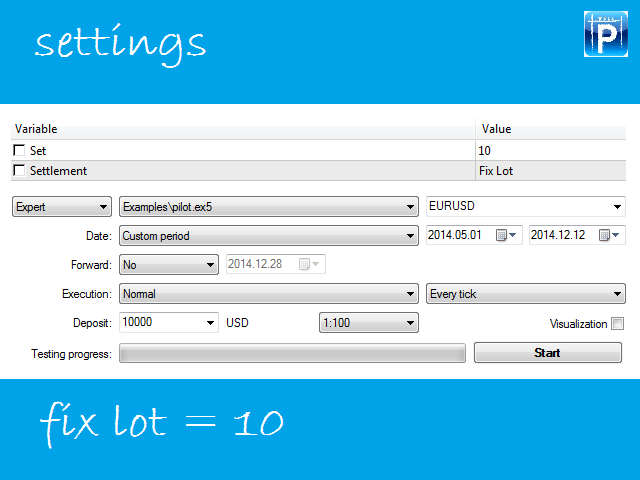 Relat­ed Posts
Expert Advi­sor RobotTripleRSI
Expert Advi­sor EAmi­croMoney Bet
Expert Advi­sor PulseVolatileAnalyzer
Expert Advi­sor Ten Thou­sand Pips
GBPUSD
Generator
Expert Advi­sor Shmen­dridge
C7
Chan­nel Breaks
Expert Advi­sor Scalper Bollinger Bands
Expert Advi­sor Moment Catcher
Expert Advi­sor Bobra Stable
Expert Advi­sor
ATR
Enve­lope tfmt5