The Expert Advi­sor works with ticks, cal­cu­lates volatil­i­ty and oper­ates in the volatil­i­ty work­ing range. After that, the EA defines price devi­a­tion from the price bal­ance lev­el and starts work­ing in the direc­tion set in the input para­me­ters and on the appro­pri­ate lev­els that are also spec­i­fied in the inputs.
Set­ting (by default) is dis­played in the screen­shot (2014.01.01–2014.11.01). Before work­ing in real time, opti­mize a month on every tick! The opti­miza­tion set­ting is pro­vid­ed. It is enough to opti­mize the EA once per month, for exam­ple. After that, it shows excel­lent results on the for­ward peri­od (up to a year).
Also, it is rec­om­mend­ed to work on liq­uid Forex pairs with low spreads and use VPS. The min­i­mum start­ing deposit is $100 and the min­i­mum lot is 0.01.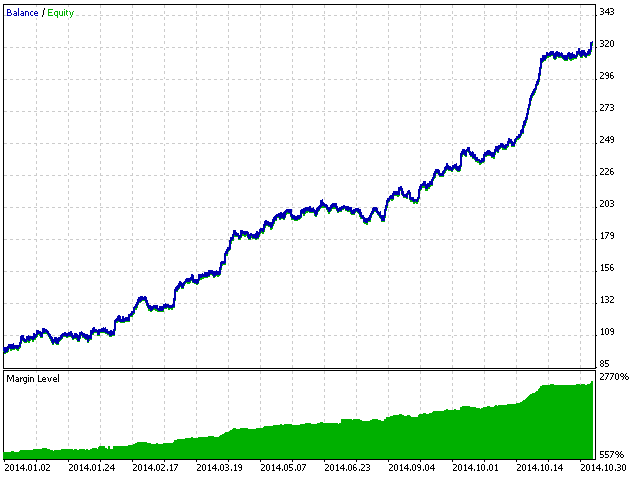 Relat­ed Posts
Expert Advi­sor
EURGBP
spot
Expert Advi­sor RobotNRTR
Expert Advi­sor BreakCandles
Expert Advi­sor RobotLiga
Expert Advi­sor Four Thou­sand Pips Bear­ish Generator
Expert Advi­sor
CAP
Every Day
EA
Expert Advi­sor Vir­tu­al pend­ing buy stop order
Expert Advi­sor RobotMACD