Is posi­tion man­age­ment time con­sum­ing? The Trade Man­ag­er EA per­forms an auto­mat­ic posi­tion man­age­ment for you.
Cap­i­tal preser­va­tion is top priority;
Let prof­its run with­out your attention;
Enjoy risk-free trades as soon as possible;
It trails the stop-loss automatically;
Ini­tial

SL

and

TP

are also automatic.

The EA per­forms the fol­low­ing tasks after you've tak­en a trade:
The ini­tial stop-loss is auto­mat­i­cal­ly placed (option­al);
The ini­tial take-prof­it is auto­mat­i­cal­ly placed (option­al);
It locks into a free-ride as soon as pos­si­ble by clos­ing 50% of the trade (option­al);
It moves the stop-loss to break-even for the first time (option­al);
It trails the stop-loss using your desired method until stopped out (option­al).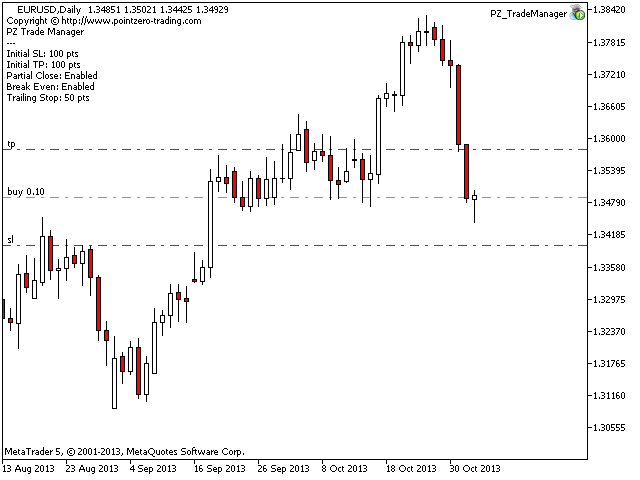 Get the pro version!
This Expert Advi­sor is ful­ly func­tion­al and enough for the aver­age trad­er, but there is a pro ver­sion available.
The pro ver­sion imple­ments more features.
Cus­tomiz­able risk/reward ratio for par­tial clos­ing and break-even;
Cus­tomiz­able lot­size to be closed when the risk/reward ratio is met (in per­cent­age);
The trail­ing-stop leaves foot­prints on the screen;
It imple­ments five trail­ing stop methods.
Why is posi­tion man­age­ment so important?
Get two pro­fes­sion­al traders in a room a ran­dom day of the week. Tell one to buy the EUR/USD, and tell the oth­er one to short it. Chances are that both of them will close their trade in a prof­it, or at least avoid los­ing by clos­ing their trades par­tial­ly at the right time.
Now bring in two inex­pe­ri­enced traders, and again have each of them take oppo­site sides of a trade. Both will prob­a­bly close their posi­tions in a loss. Why might this hap­pen, you ask? What do the pros know that the rest of the herd does not? And how can you emu­late their success?
The answer is in a prop­er exit. This idea — that the exit of any trade is always more impor­tant than its entry — is a fair­ly wide­spread notion, but one that seems to be unknown among most retail traders. Ask an inex­pe­ri­enced trad­er why they got into a trade, and you'll prob­a­bly be met with an answer: "The Euro area is in deep trou­ble, so I went short", or "The Aus­tralian dol­lar just hit a sup­port area, so I went long".
Novice traders are always look­ing for prop­er entries, nor­mal­ly in the form of "mag­ic-no-loss buy/sell sig­nal indi­ca­tors", while dis­ci­plined and pro­fes­sion­al traders are con­stant­ly look­ing for prop­er exits and have cap­i­tal preser­va­tion con­stant­ly in mind.
But nobody seems to think about the exit strat­e­gy of a trade before actu­al­ly tak­ing it! As you can imag­ine, this leads to form­ing bad habits such as let­ting fear and greed infect your trad­ing. It caus­es you to let losers run hop­ing the trade will turn around, and to cut your prof­itable trades ear­ly, out of fear that you will lose a small amount of hard-earned prof­it. And this is exact­ly the oppo­site of what you should be doing!
Every trade must be man­aged in virtue of the fol­low­ing priorities:
Cap­i­tal preser­va­tion is top priority;
Cut your loss­es fast;
Let your prof­its run.

Some nit­ty-grit­ty details
The stop-loss is not trailed unless it is secur­ing prof­its (Leav­ing the trade enough time to develop);
The stop-loss is trailed only once every bar, not every tick;
The par­tial clos­ing log­ic is eval­u­at­ed tick by tick;
Author
Arturo López Pérez, pri­vate investor and spec­u­la­tor, soft­ware engi­neer and founder of Point Zero Trad­ing Solu­tions.
Relat­ed Posts
Expert Advi­sor TrendLinesMT4
Expert Advi­sor The Stream
Expert Advi­sor CloseDeleteEA
Expert Advi­sor Trend Pull­back Trader
Expert Advi­sor CloudAtlas
Expert Advi­sor Alex Prof­it Free
Expert Advi­sor Winds And Storms
MT4
Free
Expert Advi­sor Hol­i­day Trad­er
EURUSD