Features
No mar­tin­gale or oth­er suspicious/dangerous

MM

.
No sus­pi­cious drawdowns. Stan­dard bro­ker stop-loss placed on all orders.
No hard-cod­ed tricks.
Set your own risk to reward.
Very sim­ple and safe mon­ey man­age­ment.
Good set­tings will work across mul­ti­ple pairs and time frames that it was not even opti­mized for!
No wor­ry of slip­page or bro­ker dif­fer­ences, this

EA

does not scalp but oper­ates on

H4

or high­er and it only runs at bar close.
Back­test­ing cus­tom optimizations. This

EA

is a pow­er­ful tool that will prob­a­bly live for­ev­er in your trad­ing arse­nal. [Meta­Trad­er 5 ver­sion only]
Less than 1/3rd of the price of oth­er incred­i­ble EA's!
Description
This EA sim­ply takes 10 pop­u­lar indi­ca­tors used in today's best trade sys­tems and gives each com­bi­na­tion a vari­able weight. When an indi­ca­tor match­es up with anoth­er a score is giv­en. Once enough indi­ca­tors have lined up to give a large enough score, a trade is entered. It's designed to catch large moves on trendy pairs on the dai­ly and H4 and works well on EU, EJ, GJ, AU, UC but also works on oth­ers as well.
Mon­ey man­age­ment is sim­ple. Just use the risk set­ting to set the % of your risk on each trade or set to 0.0001 to trade with the small­est allow­able lot size. You may also select a flat posi­tion size in lots.
I will use this EA on my own live account but I don't have much ini­tial cap­i­tal, so I will sell some copies of this to give my trad­ing account a lit­tle boost. I will take it down when my account is ade­quate (or at least raise the price), so act soon!
The opti­miza­tion algo­rithm is ful­ly cus­tomiz­able to your trad­ing pref­er­ences and risk tol­er­ance. This EA is a pow­er­ful tool that will prob­a­bly live for­ev­er in your trad­ing arse­nal. If you love test­ing, you will love this EA. [MT5 ver­sion only]
I have screened one pair's opti­miza­tion and for­ward test. It actu­al­ly works even bet­ter on EUR and works great on many oth­er pairs.
Settings
Mag­icn — Set to be unique for each instance.
*

TESTER

SETTINGS

— Opti­mize for cus­tom to uti­lize the set­tings below, weights should not be 0. [Meta­Trad­er 5 only]
Tester­MinTrades — min­i­mum trades. Tester will severe­ly penal­ize the cus­tom score of runs with few­er trades.
Tester­Sharp­Weight — weight of the Sharp Ratio with­in the cus­tom score.
Tes­ter­D­DRa­tioWeight — weight of the draw­down to prof­it ratio with­in the cus­tom score.
TesterPFWeight — weight of the Prof­it Fac­tor with­in the cus­tom score.
Tester­Prof­itweight — weight of the Prof­it per year with­in the cus­tom score.
Score­Mul­ti­pli­er — mul­ti­ply the cus­tom score result in case it is too small to read with­in the results.
*

BIG

ROUND

NUMBERS

SETTINGS

— will place stops/entries behind/in front of BRNs.
PreAdj — adjust­ment of the actu­al des­ig­na­tion of the BRNs based on

ATR

. (1–10)/0.25.
BRN­no­trades — if true, it will not take trades in to near­by BRNs.
Use­BRN­Stops — reduce risk by hid­ing stops behind near­by BRNs.
Use­BRN­Tar­gets — increase prob­a­bil­i­ty of hit­ting tar­get by plac­ing tar­gets inside near­by BRNs.
Pull­Back­En­try — enters with lim­it order just inside a

BRN

. Exper­i­men­tal.
brnarea — dis­tance from

BRN

to the new lev­el based in

ATR

(0.1–3.1)/0.25.
BRN­zone — dis­tance to look for the near­est

BRN

based in

ATR

(0.25–8) /0.25.
*

LOT

SIZE

AND

RISK

— If uselots = false then risk @ 0.01 = 1% of account risk.
Slip­page — allow­able slip­page.
UseLots — if true, uses stan­dard lot siz­ing instead of a per­cent of account risk.
Risk — if UseLots is false then .01 = 1% of account risk, oth­er­wise risk is just a stan­dard lot size.
*

TRADE

ENTRY

AND

MANAGEMENT

.
Sto­ploss — based on

ATR

(1–4)/1.
Take­prof­it — based on

ATR

(1–6)/1.
Thresh — score need­ed to enter a trade (70–120) [set and do not opti­mize].
CThresh — score need­ed to exit a trade (10–70)/10.
Decay — score decay each bar (1–8)/1.
ScoreX_Y — these are the points award­ed when indi­ca­tor x lines up with indi­ca­tor y. (0–10)/2.
Optimization
Please read all Meta­Trad­er 5 doc­u­ments regard­ing curve fit­ting and back­test­ing. Always check across data feeds, pairs and time­frames.
Use con­trol points for quick­er opti­miza­tions. It will hard­ly make a dif­fer­ence and you can do the final check with every tick to make sure.
Use the

H4

or Dai­ly only to catch large moves, that is what it is designed for.
Use the cus­tom weights and min­i­mum trades set­tings for the cus­tom score opti­miz­er and then opti­mize for cus­tom.
First, set your stop loss, take prof­it and Thresh to your per­son­al lik­ing.
Sec­ond, run an iso­lat­ed round of opti­miz­ing only the trade entry and man­age­ment sec­tion.
Third, run anoth­er opti­miza­tion for the

BRN

sec­tion to fine tune it. (These two options are run seper­ate to avoid over­fit­ting.)
Use risk of 0.0001 dur­ing opti­miza­tion to avoid strange results.
Opti­mize for prof­it fac­tor or opti­mize for cus­tom one in Meta­Trad­er 5.
Opti­mize a spe­cif­ic date that leaves some space for a for­ward test. For exam­ple, opti­mize for 2005–2012, and when you are done, you can run it on 2013 as a "for­ward" test.
Once com­fort­able with your opti­miza­tion pro­ce­dure, you may want to opti­mize up to date and only check on oth­er time frames, pairs and pre-opti­miza­tion date data.
You will need at least 350 trades in most cas­es.
You will need to cov­er enough time in your opti­miza­tions to avoid over­fit­ting. For instance, at least 15 years for a 4 hour time peri­od set­ting.
Check the com­ments for known set­tings.

EXPERIMENT

AND

LEARN

! All set­ting and opti­miza­tion instruc­tions are just gen­er­al guide­lines, and I urge you to find what works for you, maybe even find new ways to use this tool.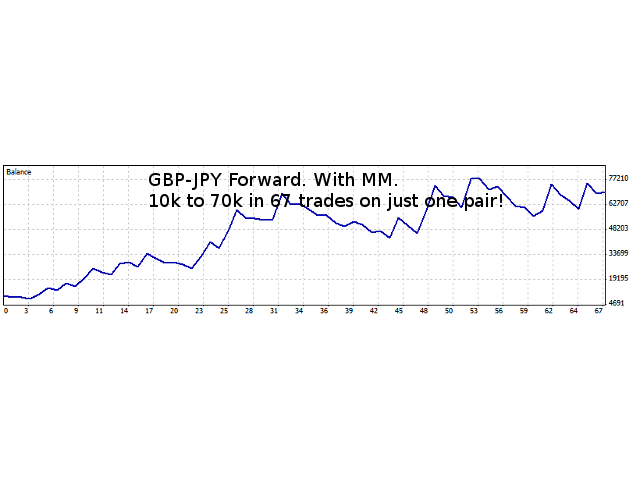 Relat­ed Posts
Expert Advi­sor Hol­i­day Trad­er
EURUSD
Expert Advi­sor Curi­ous Chameleon
EA
Expert Advi­sor Mar­tin­gale
BB
SMA
free
Expert Advi­sor The Stream
Indi­ca­tor
PA
Pat­terns Robot
Expert Advi­sor Clou­dAt­las
Expert Advi­sor CloneIt4 Demo Trade Copi­er
Expert Advi­sor Trend Pull­back Trad­er
Expert Advi­sor Smart­Trail­ing