About the Shmendridge
PAM

(Price Action Master)

EA

Series
These mul­ti-sym­bol mul­ti-time-frame bots enter on high prob­a­bil­i­ty engulf­ing bar and shoot­ing star/hammer/pin bar pat­terns with a stop order. (Delays won't mat­ter, slip­page and spread not a big deal on larg­er time-frames.)
They may con­sid­er up to 4 sec­ondary time-frames in their analy­ses and score of space, trend, qual­i­ty of bar, qual­i­ty of impor­tant loca­tions, big round num­bers and qual­i­ty of pull­backs.
These bots can print a spe­cial csv log file for sta­tis­tic analy­ses of each observed criteria.
The bots are based on many of the trad­ing prin­ci­pals of the James16 chart thread. *Nei­ther I, nor my

EA

are affil­i­at­ed in any way to the Jame16 group.
Non scalper. Uses only com­plet­ed bars in its calculations.
About the Shmendridge
PAM

Turnip
This

PAM

bot has been trained to focus on entries on the

H1

time frame chart like­ly to give a big­ger move.

D1

and

H4

are also exam­ined and includ­ed in the con­sid­er­a­tions with a lot of weight on trend.
This

EA

uses an advanced trail­ing stop which includes big round num­bers and recent bar lows in it's calculations.
Pre-opti­mized for wide range of mar­kets. Ready to go.
Settings
Start­Date"Date to begin trad­ing. Will only pre-load bars in fast mode up till this point. This is required in tester mode as we need 350 to 500 week­ly bars to run prop­er­ly and

MT5

will not load that many on start. You should set your "cus­tom peri­od" to be at least 350 weeks before the actu­al StartDate.
Lots"Percent of equi­ty to risk on each trade.

MAGIC_NUMBER

"Unique

ID

.
Slip­page"Maximum slip­page.

EXPOSURECHECK

"If true will not open cor­re­lat­ed trades.
Check­Mar­gin"If false it will bypass the free mar­gin check. Turn it off to save

CPU

dur­ing tests.
Thresh"How high the poten­tial trade must score to trig­ger an entry.

SYMBOLS

"The total num­ber of dif­fer­ent sym­bols to be includ­ed in the strategy.

SYMBOL1

…

SYMBOL30

"Enter each sym­bol to be includ­ed in the strategy.
riskadj1…riskadj30"Enter each risk mul­ti­pli­er for each sym­bol in case you want to risk more or less than the spec­i­fied Lots for some sym­bols. This is a mul­ti­pli­er so 1 is nor­mal risk. 0.5 is half risk. 2 is 2x risk.
Logs"Turns the csv logs on or off. They will be cre­at­ed here: "…\Users\…\AppData\Roaming\MetaQuotes\Terminal\Common\Files"

ALERTS

"If true pops an alert on each new order placed.
Print­Order­Stats"Prints all vol­umes of open orders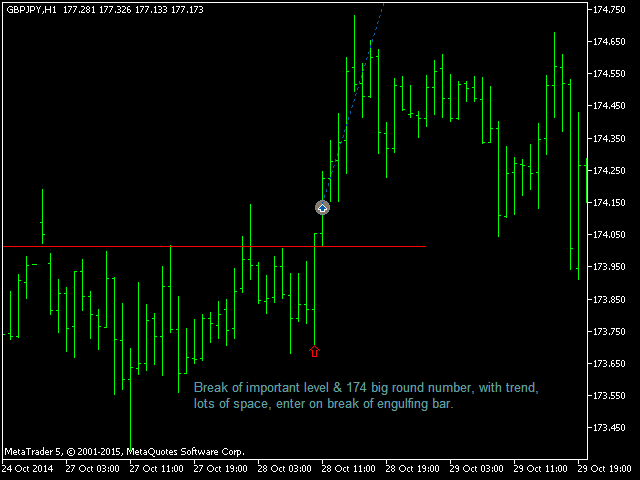 Relat­ed Posts
Expert Advi­sor PulseVolatileAnalyzer
Expert Advi­sor Plea­sure boat
Expert Advi­sor ScalpelFractals
Expert Advi­sor Vir­tu­al pend­ing buy stop order
Expert Advi­sor
GBPUSD
spot
Expert Advi­sor ExpertRegresion
Expert Advi­sor Pin Bar Expert
MT5