The Smart Neu­rons Pro Expert Advi­sor is based on the neur­al net­work approach. It can trade on any cur­ren­cy pair. Work­ing effi­cien­cy of the net­work is achieved through the unique neu­ron trans­fer func­tion and a spe­cial algo­rithm for input data prepa­ra­tion employed.
Stop Loss val­ue is cal­cu­lat­ed auto­mat­i­cal­ly, you only need to set the accept­able trade risk expressed as per­cent­age.
The screen­shots demon­strate test­ing results for EURJPY on H1. The opti­miza­tion peri­od: 10 years (2002.06.22 — 2012.06.22), for­ward test­ing peri­od: 1 year (2012.06.22 — 2013.06.22).
Rec­om­mend­ed Set­tings:
The Expert Advi­sor can be opti­mized using open prices only. Rec­om­mend­ed time­frame is

H1

.
To opti­mize it, set Mov­ing Aver­age para­me­ter to size, Volatil­i­ty para­me­ter to thir­teen and Risk para­me­ter to 1.
The weight coef­fi­cients W_1_1 — W_4_20 are set as inte­ger num­bers. The opti­miza­tion range is from ‑100 to 100.
Use the "Cus­tom max" opti­miza­tion cri­te­ri­on. Set the opti­miza­tion peri­od to 10 years, and the for­ward peri­od to 1 year.
Once the opti­miza­tion is over, select the para­me­ters with the max­i­mum val­ue in the "Result" col­umn (on the "Opti­miza­tion" tab). Run a sin­gle in "Every tick" mode.
If the num­ber of deals dur­ing the back­test is less than 930 for 10 years, decrease Volatil­i­ty val­ue.
If you are sat­is­fied with the for­ward test results, then the obtained para­me­ters can be used for trad­ing. Oth­er­wise re-opti­mize the

EA

with increased Volatil­i­ty val­ue of increased Mov­ing Aver­age val­ue.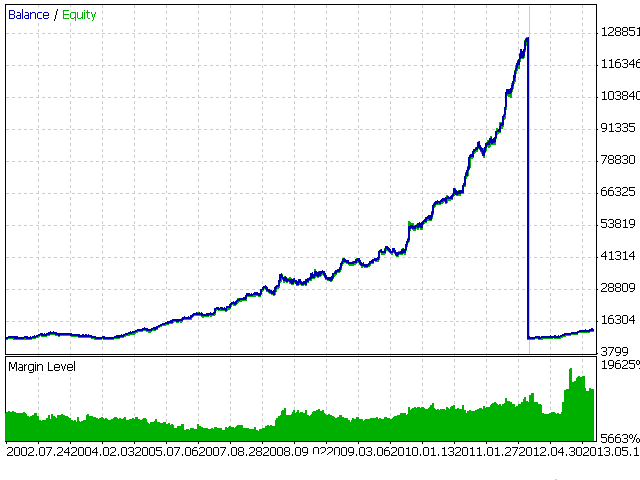 Relat­ed Posts
Expert Advi­sor Scalpe­ri­or­FX
CCI
MT5
Expert Advi­sor Tra­jec­ta Ele­phant Teen
Expert Advi­sor Price Ten­sion
Expert Advi­sor Frac­tals Wave Rid­er
Expert Advi­sor Koza­chok
MT5
Expert Advi­sor SuperTren­dRo­bot­EA
Expert Advi­sor Fol­low­TheTrend
Expert Advi­sor Likeme­ter expert
Expert Advi­sor Flash Neur­al Net­work
EA