A very inter­est­ing Expert Advi­sor that uses two CCI indi­ca­tors with sev­er­al para­me­ters of set­tings com­bi­na­tions. One of the CCI indi­ca­tors is con­sid­ered slow, the sec­ond one is fast, and when both indi­ca­tors break through one lev­el, the EA enters the mar­ket. In anoth­er vari­ant of set­tings, the dis­tance between the sig­nals must be the great­est pos­si­ble; once this max­i­mum val­ue is reached, the EA enters the mar­ket.
The Expert Advi­sor uses the clas­sic trad­ing method with a min­i­mum of deals, min­i­mum time in the posi­tion, min­i­mum draw­down.
Account requirements:
Lever­age: 1:100 or high­er
Stop Out: no more than 20%
Min­i­mum order vol­ume (lots): 0.01
Min­i­mum step for the order vol­ume: 0.01
Do not use bonus, they are not tak­en into account in draw­down and Stop Out cal­cu­la­tion
Account cur­ren­cy:

USD

is rec­om­mend­ed
An account with a fixed or zero spread (

ECN

/

NDD

) is rec­om­mend­ed
Additions:
An Expert Advi­sor for ÐœetaТrader 4 (Build 600 or high­er)
Min­i­mum deposit: 100$ with lot 0.01
The Expert Advi­sor per­forms well with a min­i­mum spread of 0.4 and a fixed or zero spread
Time­frame:

M30

or high­er.
Parameters:
Dont_Wait_Bars_Close — a sig­nal on the cur­rent bar or the next bar.
Common_Level_Crossing — in this case both sig­nals must cross the same lev­el.
A__Fast_CCI_Period — the A peri­od of the fast

CCI

.
A__Slow_CCI_Period — the A peri­od of the slow

CCI

.
A__Level_Buy — the A lev­el of Buy.
A__Level_Sell — the A lev­el of Sell.
Sep­a­rate lev­els — in this case each of the indi­ca­tors should reach their own lev­els.
Separate_Levels.
B__Fast_CCI_Period — the B peri­od of the fast

CCI

.
B__Level_Buy_Fast — the B lev­el of Buy of the fast

CCI

.
B__Level_Sell_Fast — the B lev­el of Sell of the fast

CCI

.
B__Slow_CCI_Period — the B peri­od of the slow

CCI

.
B__Level_Buy_Slow — the B lev­el of Buy of the slow

CCI

.
B__Level_Sell_Slow — the B lev­el of Sell of the slow

CCI

.
Sin­gle lev­el + dis­tance — this means that there should be a cer­tain dis­tance between indi­ca­tors.
Level_and_Distance.
C__Fast_CCI_Period — the C peri­od of the fast

CCI

.
C__Slow_CCI_Period — the C peri­od of the slow

CCI

.
C__Level_Buy — the C lev­el of Buy.
C__Level_Sell — the C lev­el of Sell.
C__Distance_Min — min­i­mum C dis­tance.
Timetable — work­ing ses­sions, time when trad­ing opens and clos­es.
Start_Hour.
Start_Minute.
Stop_Hour.
Stop_Minute.
Exit set­tings.
Bars_Limit — after enter­ing, it defines the num­ber of bars to close a posi­tion both by stop loss and take prof­it.
Stop_Loss — Stop Loss set sep­a­rate­ly.
Take_Profit — Take Prof­it set sep­a­rate­ly.
Loss_Percent — loss per­cent of the total deposit.
Order set­tings.
Orders_Limit .
Initial_Lot.
Slip­page.
Market_Execution.
Visu­al­iza­tion.
Jour­nal .
Draw_Deals — draw entry/exit icons on a chart.
Color_Profit — col­or of a win­ning entry lone.
Color_Loss — col­or of a los­ing entry lone.
Color_Buy — col­or of Buy entry lev­els
Color_Sell — col­or of Sell entry lev­els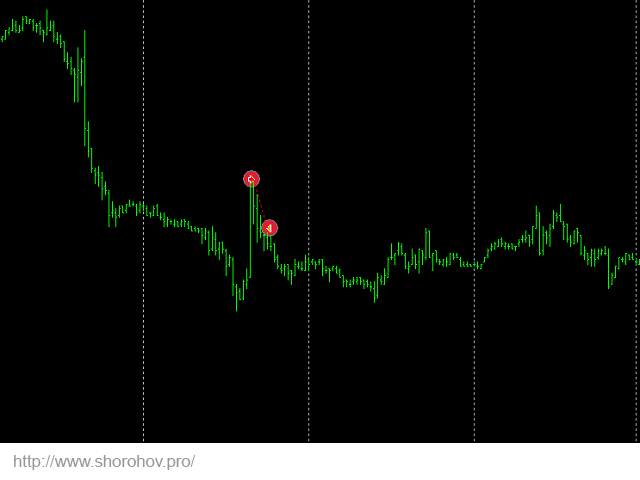 Relat­ed Posts
Expert Advi­sor Intu­ition
Expert Advi­sor Accu­rate Fish­ing Nets
Expert Advi­sor Robot­Tren­der
Expert Advi­sor EAlionK­ing
Expert Advi­sor Robot­Sto­chas­tic
Expert Advi­sor Tra­jec­ta Ele­phant Brain
Expert Advi­sor
ROMAN5
Herolds Bay
Expert Advi­sor RobotMAPrice