The Stream trades the EURUSD with a risk/reward ratio of 1/15, risk­ing around 1% of account bal­ance per trade and mak­ing it a con­ser­v­a­tive Expert Advi­sor. Although 1:15 is a very good R/R ratio, there's a prob­a­bil­i­ty of only 10% of prof­it trades accord­ing to the EA back­test­ing.
It only opens 1 stop order per day and, in aver­age, there are only 130 trades per year. My rec­om­mend­ed min­i­mum start­ing bal­ance is $1000. This EA is the one behind the sig­nal named "The Stream". And it is also a con­ser­v­a­tive ver­sion of the EA named "The Riv­er".
The Strategy
The Stream puts stop orders in the direc­tion of a trend that is deter­mined by the price lev­el in rela­tion­ship to one par­tic­u­lar Mov­ing Aver­age. This strat­e­gy is only designed for the EURUSD and it works on the D1 time­frame.
Stop Loss­es are set 10 pips below or above the trade price and Take Prof­its are set 150 pips above or below it.
Parameters
Each bro­ker has dif­fer­ent Max­i­mum­Lot­Sizes depend­ing on the type of account, so you can change it at the "input" tab when you attach the EA to your EURUSD chart. That's the only para­me­ter you can change in this EA. The default MaxLot is set on 100.
Results
Accord­ing to back­test­ing in a MetaQuotes-Demo account, from Feb­ru­ary, 2007 to August, 2014, this EA turned $1000 into $2,618,891 in prof­its with a rel­a­tive draw­down of 27.14% and a prof­it fac­tor of 1.59. More accu­rate results can be seen while fol­low­ing the sig­nal named "The Stream".
You can also get sim­i­lar infor­ma­tion by down­load­ing the demo ver­sion and test­ing it on your own ter­mi­nal.
Author
Hen­ry Latour­rette is an eco­nom­ics enthu­si­ast with a degree in Mar­ket­ing Engi­neer­ing and a deep expe­ri­ence in Inter­na­tion­al Busi­ness.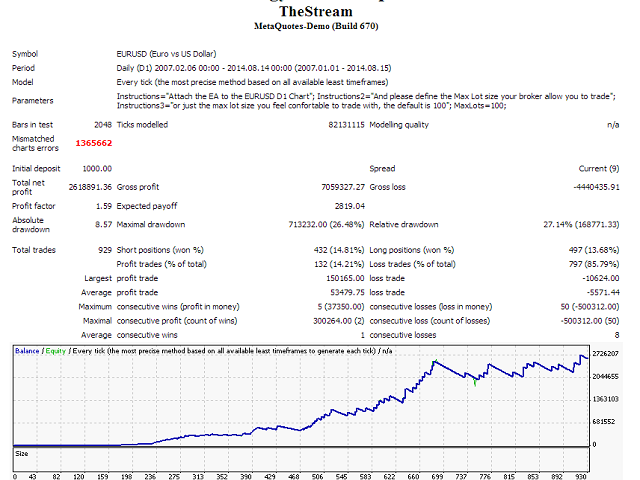 Relat­ed Posts
Expert Advi­sor Exp
COPYLOT
CLIENT
for
Expert Advi­sor Crush­ing Forex Mar­ket Demo
Expert Advi­sor
DI
GAP
Strat­e­gy
Expert Advi­sor Breakeven Scalper Free
Expert Advi­sor Test­ing Hon­est Pre­dic­tor
Expert Advi­sor The Riv­er
Expert Advi­sor Trend Pull­back Trad­er
Expert Advi­sor Close At Prof­it Extend­ed