This is a uni­ver­sal Expert Advi­sor for real Meta­Trad­er 5 accounts. The posi­tion is opened and closed at the inter­sec­tion of MACD and the sig­nal line, using a mar­ket order after the close of the sig­nal can­dle­stick. A posi­tion can be opened fol­low­ing the trend of a high­er time­frame or oppo­site to it. Posi­tion clos­ing depends on the set­tings, takes into account the prof­it.
The deposit is secured using the inno­v­a­tive fea­ture "Safe" (UseMacd­High­LowZe­ro­Close — true, Use­Level­Prof­it — false). After a last deal open­ing a dif­fer­en­ti­at­ed (in a few parts) long posi­tion, a sig­nal to close this posi­tion appears at the inter­sec­tion of MACD and the sig­nal line; the inter­sec­tion must be above 0; to close a short posi­tion the inter­sec­tion must be below 0.
The set­tings include the date and time, the rever­sal of sig­nals, auto-lot, posi­tion increase, posi­tion rever­sal, real and vir­tu­al Take Prof­it, Stop Loss, With­out Loss, Trail­ing Stop Loss and the func­tion clos­ing a part of or the entire posi­tion when the min­i­mal mar­gin is reached.
The screen­shots fea­ture the EA oper­a­tion for the peri­od 2010.01.01 to 2015.09.08 with the "Safe" func­tion enabled and AutoLotK = 0,25. Deposit (0,01+0,02+0,04)*1250*2=175. Prof­it 9583,13 (5476,07%) or above 80% per month in test­ing. Min. mar­gin 425,76%.
Input Parameters of the
EA
Start­Date — date to begin trad­ing

D1

Start­Time — time to begin trad­ing on

D1

Stop­Date — date to end trad­ing

D2

Stop­Time — time to end trad­ing on

D2

UseIn­ver­sion (false/true) — change the sig­nal val­ue to oppo­site
UseTimeFrames1 (false/true) — take trend direc­tion on

TF1

into account
TimeFrames1 —

TF1

TimeFrames2 —

TF2

Lots — ini­tial vol­ume to open a posi­tion
Rat­eDe­posit­For­Lots — deposit size in the account cur­ren­cy, a vari­able in the for­mu­la Equity/RateDepositForLots*Lots*AutoLotK for auto lot cal­cu­la­tion
AutoLotK — the ini­tial vol­ume mul­ti­pli­er, the vari­able in the for­mu­la Equity/RateDepositForLots*Lots*AutoLotK for auto lot cal­cu­la­tion
Peri­od­FastEma — fast

EMA

peri­od
Peri­od­SlowE­ma — slow

EMA

peri­od
Peri­odSig­nalS­ma —

SMA

peri­od
PriceMacd — price con­stant
UseMacd­High­LowZe­ro (false/true) —

MACD

sig­nal on

TF2

to open a long posi­tion below 0, to close a long posi­tion above 0. Oppo­site for a short posi­tion
UseMacd­High­LowZe­ro­Close (false/true) —

MACD

sig­nal on

TF2

to only close a long posi­tion above 0. Oppo­site for a short posi­tion
UseOpen­Long (false/true) — only Long
UseOpen­Short (false/true) — only Short
Dis­tanceAvr — min­i­mum dis­tance between trades as % for par­tial open­ing of a posi­tion
Lots­Fac­tor — next trade vol­ume mul­ti­pli­er
Lim­i­tAvr — num­ber of trades
Num­Lim­i­tAvr — index num­ber of a trade to set new take prof­it
Take­Prof­i­tAvrNew — new take prof­it val­ue
Num­ber­In­crease — num­ber of trades to increase a posi­tion
StepIn­crease — min­i­mum dis­tance between trades as %
Vol­umeIn­crease — trade vol­ume
Use­Can­dle­Clo­seIn­crease (false/true) — sig­nal on a closed can­dle
UseCloseTimeFrames1 (false/true) — close posi­tions in case of an oppo­site sig­nal on

TF1

UseCloseTimeFrames2 (false/true) — close posi­tions in case of an oppo­site sig­nal on

TF2

Use­Level­Prof­it (false/true) — con­sid­er Lev­el Prof­it when clos­ing posi­tions in case of an oppo­site sig­nal on

TF2

on the last trade of par­tial open­ing of a posi­tion
Lev­el­Prof­it — min­i­mum prof­it as % to close posi­tions in case of an oppo­site sig­nal on

TF2

Use­Re­al­Stop (false/true) — apply real stop orders
Sto­pLoss — stop loss as %
Trail­ingStart — prof­it lev­el to set trail­ing as %
Trail­ingStop — trail­ing dis­tance from the price as %
Use­Can­dle­Clos­e­Trail­ingSto­pLoss (false/true) — set trail­ing on a closed can­dle
Trail­ingStop­With­out­Mov­ing (false/true) — do not move trail­ing once it is set (With­out Loss)
Take­Prof­it — take prof­it as %
Slip­page — slip­page
Order­Type­Fill­ing — order exe­cu­tion method
Mar­gin­Lev­el — min­i­mum lev­el of mar­gin to close a posi­tion
Per­cent­Lots­Mar­gin­Lev­el — per­cent­age to decrease a posi­tion when the min­i­mum lev­el of mar­gin is reached
OrderId — order index
Line­Name — name of a vir­tu­al order line
LineStyle — type of a vir­tu­al order lines line
Line­Col­or­Loss — col­or of a vir­tu­al stop loss line
Line­Col­or­Prof­it — col­or of a vir­tu­al take prof­it line
LineWid­ht — width of a vir­tu­al order line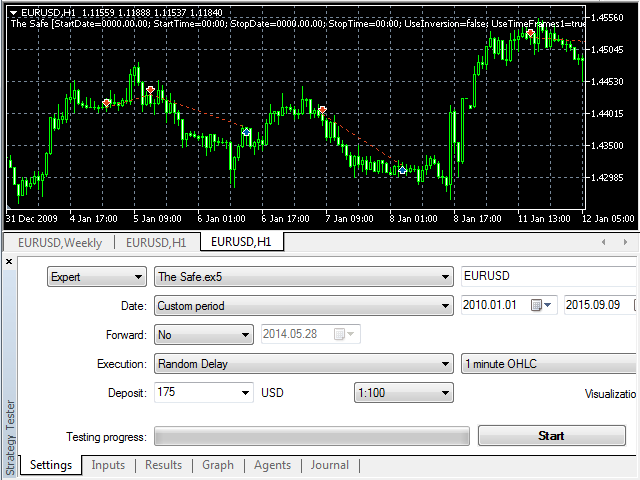 Relat­ed Posts
Expert Advi­sor Rob­o­tA­MA
Expert Advi­sor Brain Boom
Expert Advi­sor Robot­PriceChan­nel
Expert Advi­sor Ten Thou­sand Pips Tur­bo for Active
Expert Advi­sor Robot­Frac­ta­l­Adap­tive­MA
Expert Advi­sor Exp Tick­Sniper
FULL
Expert Advi­sor Ten Thou­sand Pips
GBPUSD
Gen­er­a­tor
Expert Advi­sor Investor Bot
Expert Advi­sor
MT5
FF
Eco­nom­ic Cal­en­dar
Expert Advi­sor
EA
non stan­dard trade on