Three Mus­ke­teers Return MT5 is a scalp­ing Expert Advi­sor that works on MT5 plat­form. Like Three Mus­ke­teers, it uses '3 in 1' strat­e­gy based on price move­ment to fight in forex mar­ket. Addi­tion­al fea­tures are Reverse Orders option, Time Trad­ing fil­ter and Tar­get Profit/Loss in per­cent­age money.
You can adjust all of them, so they suit your tar­get and style.
To test EA please use "Every Tick" mode.
Input Para­me­ters :
GENERAL INFO
Expert Name
Expert Ver­sion
Expert Devel­op­er
Expert Set­up
GENERAL SETTINGS
Max­i­mum spread allowed in point(s)
Slip­page in point(s)
Mag­ic Number
TIME SETTINGS
Start hour to trade
Stop hour to trade
MONEY MANAGEMENT
Mon­ey man­age­ment (true or false)
Risk in per­cent­age terms
Vol­ume in lots if mon­ey man­age­ment false
Tar­get prof­it in per­cent­age mon­ey, if 0 not used
Tar­get loss in per­cent­age mon­ey, if 0 not used
Restart trade if one of Tar­get is reached (true or false)
ORDER SETTINGS
Max­i­mum deal allowed
Sig­nal power
Pend­ing stop dis­tant in point(s)
Time frame
Stop Loss in point(s), if 0 not used
Take Prof­it in point(s), if 0 not used
Trail­ing Stop in point(s), if 0 not used
COLOR SETTINGS
Tar­get color
Equi­ty color
Time col­or
Spread col­or

Author:
achi­day­at, a lec­tur­er of physics at Uni­ver­si­ty of Braw­i­jaya, inter­est­ed in Forex trad­ing espe­cial­ly in devel­op­ment of Expert Advi­sor over 5 years.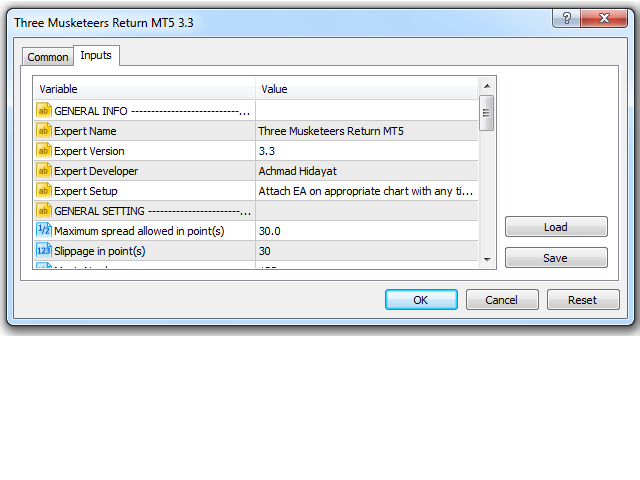 Relat­ed Posts
Expert Advi­sor FibonacciFisherman
Expert Advi­sor Smart Harmony
Expert Advi­sor Quadru­ple Mov­ing Aver­age tfmt5
Expert Advi­sor Afscashcard1
Expert Advi­sor Pipsburger
Expert Advi­sor Rogue Wave
FX
Expert Advi­sor
FXR
BEGINNER
Expert Advi­sor Tren­do­scope expert
Expert Advi­sor
EA
trade in two price