The Free ver­sion of TimeScalper has a fixed lot val­ue set to 0.01 and works only on
EURUSD
.
This EA works with inter­nal log­ic, no addi­tion­al indi­ca­tors need­ed.
Here is the expla­na­tion of the input val­ues:
Bro­kerIsECN — If you use an

ECN

Bro­ker, you must select this option that will mod­i­fy your order adding the

SL

only after the order is placed.
Sto­pLoss — This saves mon­ey against spikes or huge loss.
The EA has a trail­ing stop very close to the entry val­ue and not all the bro­kers allows so tight TL. In this case you'll get the error "Trail­ingStop too close to the Sto­plev­el".
In order to let the EA works cor­rect­ly, you should select a low-spread (bet­ter less than 1 point) instru­ment and a fast Bro­ker STP or ECN with a good low laten­cy con­nec­tion.
I've back-test­ed this EA's on EURUSD M5 and USDJPY M5 with two dif­fer­ent bro­kers his­to­ry and a vari­able spread between 08 and 12 pips, where I had good results and low draw­down (take a look at the results of the Time Scalper Basic and Time Scalper Pro ver­sion).
You can also use the M1 Time­Frame.
It's not my inten­tion to spon­sor any bro­kers, so I'm not going to share any Live trad­ing results. That's why I made the free ver­sion which can be test­ed by your­self on a demo/real account with low risk.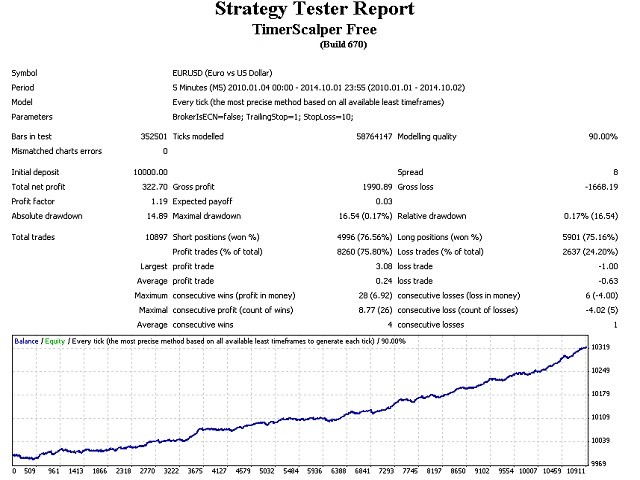 Relat­ed Posts
Expert Advi­sor BeShoot Email
Expert Advi­sor Order Dumper
Expert Advi­sor CamelAv­er­ageLev­el
Expert Advi­sor
DI
Assis­tant Lite
Expert Advi­sor Mar­tin­gale
BB
SMA
free
Expert Advi­sor
MY
TRADES
MT4
Expert Advi­sor
PZ
Equi­ty Guardian
Expert Advi­sor Crush­ing Forex Mar­ket Demo
Expert Advi­sor Bala Trade Pad Free