This prod­uct helps per­form­ing FullScreen Trad­ing. The big­ger the chart size, the more minute changes we can notice.
With this prod­uct, you do not need to open Ter­mi­nal win­dow to mon­i­tor open trades.
This free ver­sion can close only the 10th trade and lists only the first 15 trades. For clos­ing any Nth order and list all trades, buy the full ver­sion.
More­over, it shows SL and TP in $ as well, unlike the ter­mi­nal win­dow which only shows the SL and TP Price.
Also, it shows float­ing prof­it in Green col­or and float­ing loss in Red col­or.
Bal­ance, Equi­ty and Over­all Float­ing Prof­it are also dis­played.
All trades (up to 150 open trades) can be viewed and closed on the chart itself.
There are 10 but­tons at the bot­tom. Click­ing on each shows 15 trades on the chart.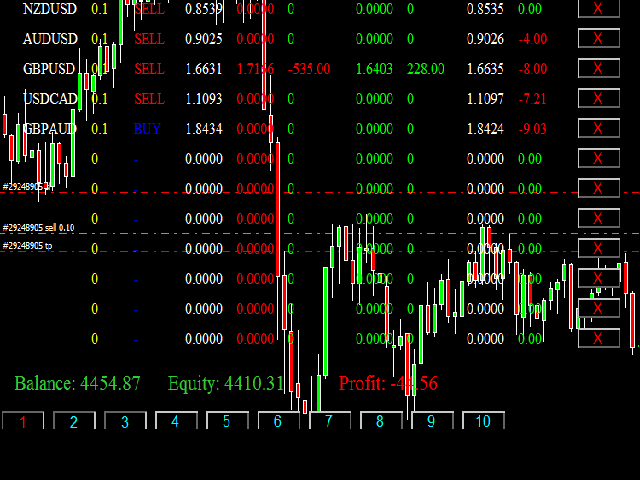 Relat­ed Posts
Expert Advi­sor Guard
SL
TP
Expert Advi­sor Close All
Expert Advi­sor Exp
COPYLOT
MASTER
for
Expert Advi­sor
USD
TRADER
MT4
Expert Advi­sor Show Trades
Expert Advi­sor CloneIt4 Demo Trade Copi­er
Expert Advi­sor MarkovChains
EA
Demo
Expert Advi­sor
MQL
Ran­dom
EA
Expert Advi­sor Order Dumper
Expert Advi­sor Grid Har­vester
MT4
Free