The Tree EA Free is a ful­ly auto­mat­ed break­out Expert Advi­sor designed for trad­ing on the H1 time­frame. The prod­uct is a free ver­sion of The Tree EA that can work on USDJPY H1.
The Trade Logic
The oper­at­ing prin­ci­ple of this EA is based on the break­out of local lev­els of Sup­port and Resis­tance. The indi­ca­tor Par­a­bol­ic SAR is a fil­ter for sig­nals to enter a deal. Trade is made only with Sell­Stop and BuyStop orders. Every order has a sep­a­rate lev­el of Take Prof­it and Stop Loss set­up, which is cal­cu­lat­ed based on the cur­rent volatil­i­ty. The func­tion of trans­fer­ring a trail­ing prof­it to breakeven and order expi­ra­tion time before and after the deal was opened are used in this Expert Advi­sor. This is the way to pre­vent keep­ing the deal open for an unnec­es­sar­i­ly long time. The Expert Advi­sor opens only one order in one direc­tion at a time.
Mon­i­tor­ing in the sig­nals (full ver­sion): https://www.mql5.com/en/signals/60515
Settings and Parameters
Lots — lot used for trad­ing;
Trade­Com­ment — com­ment for the deal (addi­tion­al­ly dis­played in the info win­dow of the chart);
Mag­ic­Num­ber — unique mag­ic num­ber;
Show­In­fo — dis­play­ing an infor­ma­tion win­dow with the cur­rent com­ment, mag­ic num­ber and the Expert Advi­sor build (true = yes; false = no);

HOUR1-HOUR4

— para­me­ters of the log­ic respon­si­ble for the time. For cor­rect oper­a­tion they have to be set up accord­ing to the instruc­tion below, and it is not rec­om­mend­ed to change them any oth­er way.
Full Version Advantages
The prod­uct can be used on sev­en pop­u­lar cur­ren­cy pairs, includ­ing:

EURUSD

,

USDJPY

,

GBPUSD

,

AUDUSD

,

USDCHF

,

NZDUSD

and

USDCAD

. Free ver­sion opti­mized only for

USDJPY

H1

.
Extend­ed mon­ey man­age­ment func­tions: fixed lot or lot cal­cu­la­tion in per­cent­age of the deposit. In the free ver­sion, only fixed lot can be used (not more than 0.1).
Full version:Â The Tree EA
Instructions and Recommendations
Note. Before you get start­ed, every para­me­ter of the group "

HOUR1-HOUR4

" needs to be adjust­ed accord­ing to the time zone your bro­ker is using. The time for­mat is 24 hours, which means that per­mit­ted val­ues vary from 0 to 23. Cur­rent set­tings are for the bro­kers using

GMT

+0. For a bro­ker using the

GMT

+3 time, you will need to add 3 to the cur­rent val­ue (for exam­ple, 21+3=0), and for bro­kers using

GMT

‑2 deduct 2 (21–2=19 accord­ing­ly). The adjust­ment for oth­er

GMT

is sim­i­lar.
Chang­ing the group of "

HOUR1-HOUR4

" para­me­ters by any oth­er means is not rec­om­mend­ed.
Free ver­sion opti­mized only for

USDJPY

H1

. Using the

EA

on oth­er cur­ren­cy pairs and time­frames is not rec­om­mend­ed.
Min­i­mum deposit for the

EA

oper­a­tion is $100.
The

EA

is rec­om­mend­ed to be launched on

VPS

in a 24-hours mode.
When choos­ing a bro­ker, the major points to take into account are low slip­page, qual­i­ty of order exe­cu­tion and sta­bil­i­ty of con­nec­tion. Besides, a bro­ker should deliv­er full-fledged quotes. For exam­ple, do not use a bro­ker which stops trad­ing activ­i­ty at least one hour ear­li­er on Fri­days and starts it at least one hour lat­er at the begin­ning of a week. Sys­tem­at­ic loss of the bars affects the

EA

results neg­a­tive­ly.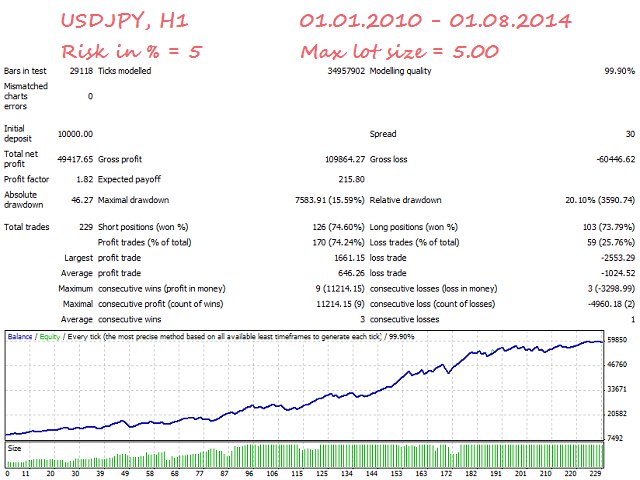 Relat­ed Posts
Expert Advi­sor Neva­da demo
Expert Advi­sor ArgoAv­er­ager
Expert Advi­sor Breakeven Scalper Free
Expert Advi­sor
AVT
Tick Saver Free
Expert Advi­sor Bala Trade Pad Free
Expert Advi­sor TrendLinesMT4
Expert Advi­sor
EA
Crazy Nip­pel Sys­tem