Trend Pull­back Trad­er trades in the direc­tion of the trend after a small pull­back (declin­ing price in uptrend, ris­ing price in down­trend). It does so by iden­ti­fy­ing the trend using an MA and then using the RSI and Sto­chas­tic oscil­la­tors (on a low­er time­frame than the MA) to sig­nal short­er term overbought/oversold con­di­tions. The EA has been opti­mized for EURUSD on M5 chart, oth­er pairs/timeframes need to be opti­mized.
The EA will not trade every day, it can go sev­er­al days with­out mak­ing a trade while mak­ing 3 — 4 trades on oth­er days. Defaulti trad­ing time is 11:00 — 2:00 GMT dai­ly (Mon­day — Thurs­day), trad­ing times can be changed via user input set­tings.
This EA has been avail­able for free on anoth­er web­site since 2010. It has under­gone a few updates attempt­ing to obtain more prof­it while lim­it­ing draw­down. I'm mak­ing it avail­able here to get it to a wider audi­ence. A tem­plate and set­up doc­u­ment (PDF) can be obtained from the oth­er web­site (Google Tren­dOSOB); down­load TrendOSOBv3.tpl and TrendOSOBv3.pdf from the first post on the first page. You'll also need the MTF_Moving_Average.ex4 indi­ca­tor if using the tem­plate.
Real account mon­i­tor­ing: https://www.mql5.com/en/signals/31562
The Strat­e­gy Tester (ST) screen shot shows sim­u­lat­ed EA per­for­mance from Jan­u­ary 1st, 2006 — July 31st, 2014 using default set­tings with the fol­low­ing excep­tions:
 3% Per­cent Risk (instead of default 1%)
Â

GMT

Off­set hours mod­i­fied to match the

HST

data being used (instead of 0).
HST for the strat­e­gy tester files were cre­at­ed using price data from Alpari, and they have no time gaps (i.e. miss­ing bars). The spread used for the test on a 5‑digit bro­ker was 1.5 pips (15 points)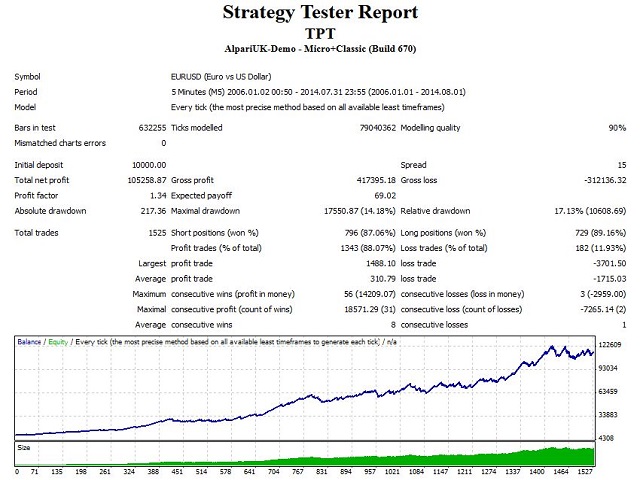 Relat­ed Posts
Expert Advi­sor Par­a­bol­ic
SAR
test
Expert Advi­sor Trade Lev­els free
Expert Advi­sor The Wolf Of Wall Street
Expert Advi­sor The Stream
Expert Advi­sor ObeyThe­Lim­its
EA
Demo
Expert Advi­sor Demo Price Action Lev­els
Expert Advi­sor
MQL
Ran­dom
EA
Expert Advi­sor Shree Trad­er
Expert Advi­sor Winds And Storms
MT4
Free