This Expert Advi­sor is based on my indi­ca­tor Ulti­mate Price Action Compine MTF. If you are look­ing for a trend fol­low­ing Expert Advi­sor, don't for­get to try this EA, I think you will see it's worth of $100 or more.
This is the first ver­sion with sim­ply strat­e­gy, and there are also many messed sig­nal that need to be improved.
To get best result, I rec­om­mend using it on H4 time­frame. All small­er time­frames are not good for now.
On back­tests we see it won only 35–40%,but it is very prof­itable with big­ger time­frames, it opens new oppor­tu­ni­ties. So we will try to remove messed sig­nals to get more win per­cent, and prof­it rank will be improved.
There is noth­ing like Holy Grail, there is no Expert Advi­sor that can win 100%, just find an EA that can win with a lit­tle per­cent, but real prof­itable like this EA.
If you have any ideas for improv­ing, please post your mes­sages on the Com­ments tab.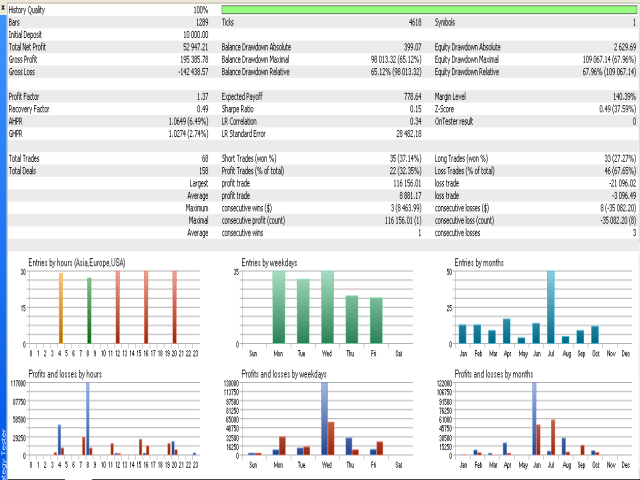 Relat­ed Posts
Expert Advi­sor CloneIt5 Trade Copier
Expert Advi­sor TransScalpel
Expert Advi­sor Mer­cusuar
MT5
Expert Advi­sor Hid­den
TP
and
SL
Expert Advi­sor Tra­jec­ta Ele­phant Pair
Expert Advi­sor Prof­it or Loss Pad
Expert Advi­sor
FXR
Starter
MT5
Expert Advi­sor
ATR
Enve­lope tfmt5
Expert Advi­sor
TIME
Is
MONEY
MT5
Expert Advi­sor Pipsburger