About the
EA
Ultra­FX uses a mod­i­fied grid algo­rithm with a func­tion of syn­chro­nous hedg­ing of the main orders grid. When the mar­ket moves against the ini­tial posi­tion, the EA forms a grid at the same time open­ing oppo­site orders, which fol­low the trend and have fixed prof­it. This algo­rithm enables to sig­nif­i­cant­ly increase the EA's prof­itabil­i­ty, decrease trad­ing draw­down, and cut mar­gin require­ments to deposit by means of open­ing oppo­site posi­tions.
Features
Plat­form: MetaTrader4;
Cur­ren­cy pair:

GBPUSD

;
Time­frame: Ðœ1;
Quotes: 4, 5 dig­its;
Oper­at­ing hours: 24/7.
Input Parameters
Lot " ini­tial lot of the first order;
Scale " lot mul­ti­pli­er for sub­se­quent orders;
Step " step of trades;
Take­Prof­it " clos­ing orders per total prof­it;
Trail­ing " trail­ing stop acti­va­tion;
Trail­Start " trail­ing start;
Trail­Stop " trail­ing step;
Equi­tySave " equi­ty con­trol acti­va­tion;
Equi­tyRisk " stop per equi­ty,%;
Slip­page " allowed slip­page when an order is opened;
Mag­ic - mag­ic num­ber for long posi­tions (Buy);
_Magic " mag­ic num­ber for short posi­tions (Sell).
Recommendations
Rec­om­mend­ed deposit: from $1000 ($10 for cent accounts);
Lot: 0,01 per 1000 units of base cur­ren­cy;
Two- or three­fold increase of the ini­tial lot is allowed when boost­ing deposit;
Don't be greedy and draw out prof­it when deposit is dou­bled;
Below, I pro­vid­ed a video explain­ing the EA's oper­a­tional prin­ci­ple and reports about var­i­ous trad­ing mod­els: from clas­sic one with a small risk to aggres­sive which is able to increase you deposit enor­mous­ly for a short peri­od of time. But remem­ber that hyper-prof­itable aggres­sive trad­ing involves a high risk and is rec­om­mend­ed to use only for ini­tial deposit boost­ing.
Wish­ing you great trad­ing and prof­it!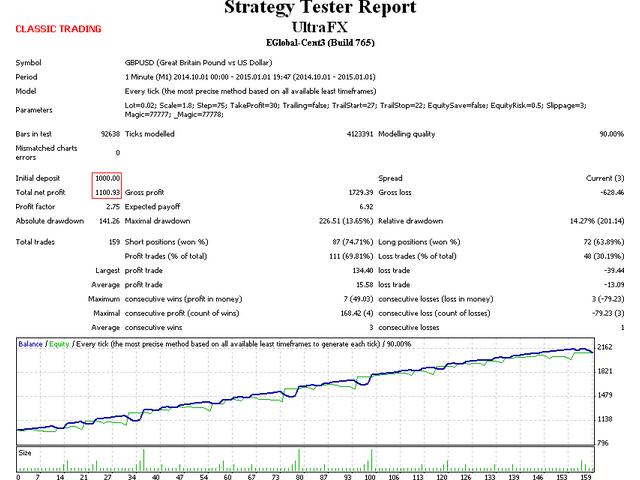 Relat­ed Posts
Expert Advi­sor ForexRid­er Grid Robot
Expert Advi­sor Three Mus­ke­teers Return
Expert Advi­sor Nice Forex Pro
Expert Advi­sor MultiMTCopierMT4Source
Expert Advi­sor Sin­gu­lar­i­ty
Expert Advi­sor
EN
T60
PRO
Expert FxBrain­Bot
EA
MT4