Wind rose is a mul­ti­c­ur­ren­cy Expert Advi­sor. It trades the pairs con­sist­ing of the cur­ren­cies select­ed in the input para­me­ters. The trad­ing robot has only one open posi­tion at a time. The Expert Advi­sor opens a posi­tion for the sym­bol that is the most volatile at the moment. The robot applies two strate­gies — trend and flat one, switch­ing between them depend­ing on the para­me­ters received from all oth­er cur­ren­cy pairs.
Input Para­me­ters
EUR

— use pairs with Euro;

GBP

- use pairs with British pound;

AUD

— use pairs with Aus­tralian dollar;

NZD

— use pairs with New Zealand dollar;

USD

— use pairs with

US

dollar;

CAD

— use pairs with Cana­di­an dollar;

CHF

— use pairs with Swiss franc;

JPY

— use pairs with Japan­ese yen;
Time­frame — time­frame of the his­to­ry data used for analysis;
Peri­od - num­ber of the bars of his­tor­i­cal data used for analysis;
Stop Loss — loss fix­ing lev­el in points;
Take Prof­it — prof­it fix­ing lev­els in points;
Switch lev­el — val­ue of the key lev­el for trend/flat switch, select­ed from [0,1] range;
Fixed Lot — fixed lot value;
Vari­able Lot — vari­able lot as a per­cent­age of the free margin.
The screen­shots demon­strate the back­test­ing results. The test­ing has been sub­ject to MetaQuotes-Demo server's trad­ing con­di­tions and per­formed on EURUSD M1, "Every tick" mode, from 01.01.2014 to 05.07.2014, default settings.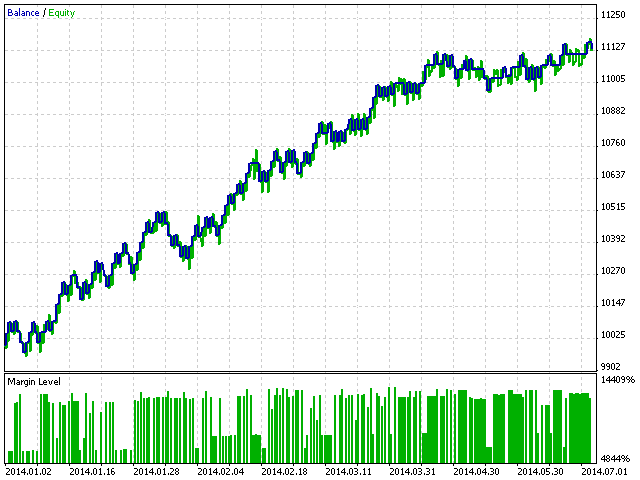 Relat­ed Posts
Expert Advi­sor High Fre­quen­cy Scalper Trad­ing Series 1 01
Expert Advi­sor Uni­ver­sal
EA
Full Function
Expert Advi­sor Intuition
Expert Advi­sor TransScalpel
Expert Advi­sor
FXR
BEGINNER
Expert Advi­sor
GBPUSD
spot
Expert Advi­sor
EA
trades usu­al­ly the third bar
Expert Advi­sor Sure Fire
Expert Advi­sor
BIG
Fish­ing Nets