Are grid strate­gies too com­pli­cat­ed? All these para­me­ters make you nauseous?
Winds and Storms is mix­ture of grid and chan­nel strat­e­gy. It uses Bollinger Bands or Kelt­ner Chan­nel to mea­sure oscil­la­tion potential.
It has easy set­tings with sug­ges­tions that lim­it the num­ber of opti­mized argu­ments. Some­times the only fac­tor that needs to be opti­mized is Mon­ey Management/Currency Stop Loss fac­tor! It adjusts Grid auto­mat­i­cal­ly to every chart. When volatil­i­ty is high­er it auto­mat­i­cal­ly extends grid to match new mar­ket con­di­tions, there­fore may give bet­ter results than ordi­nary Grid strate­gies and thanks to addi­tion­al indi­ca­tors requires much less parameters.
If you are tired of com­pli­cat­ed grid strate­gies Winds and Storms should be per­fect you, with 2 iden­ti­cal ver­sions — MT4 and MT5.
Copy set­tings 1:1 between MT4/MT5 versions!
It can work in 2 modes:
Mon­ey Man­age­ment mode — allows to risk more and have log­a­rith­mic growth.
Cur­ren­cy Stop Loss mode — lin­ear growth and risk-free prof­it after dou­bling the account.
Enjoy easy grid strat­e­gy even for beginners!
In com­ment tab you will find a PDF instruc­tion to Expert Advi­sor.
Dif­fer­ences between versions:
Winds and Storms Free
Winds and Storms Full
Winds and Storms

PREMIUM

Num­ber of positions
3
3–11
Almost Unlim­it­ed
Lot Size
0.01 — fixed
Unlim­it­ed
Unlim­it­ed
Mon­ey Management

NO

YES

YES

Para­me­ters
Only with­in Bands
Unlim­it­ed
Unlim­it­ed, frac­tions also possible
Extra para­me­ters

NO

NO

YES

Chan­nel Period
48–56
16–56
16–104
Receive pre­sets by E‑

MAIL

*

NO

NO

YES

Modes
Oscil­la­tion
Oscil­la­tion
Oscil­la­tion, Trend
Acti­va­tions
-
5
10
*authors are not respon­si­ble for future gains with any pre­set cre­at­ed " past results donâ"¢t guar­an­tee future prof­its. Pre­sets should be re-test­ed and used with cau­tion. Fre­quen­cy of pre­set cre­ation can change or can be sus­pend­ed for some time " it should not be rea­son for complains.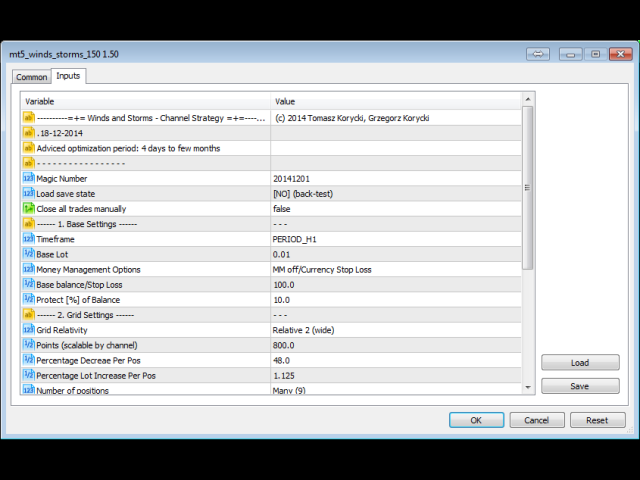 Relat­ed Posts
Expert Advi­sor Scalper
RSI
Expert Advi­sor Pair Trad­er Expert Advisor
Expert Advi­sor RobotAdaptiveChannelADX
Expert Advi­sor
RNN
Master
Expert Advi­sor Donchi­an Fil­ter tfmt5
Expert Advi­sor RiskMonitorEA