Zigi Expert Advi­sor auto­mat­i­cal­ly opens BUY or SELL posi­tions depend­ing on the sig­nals of three ZigZag indicators.
The trad­ing vol­ume used for open­ing posi­tions depends on the deposit. It is pos­si­ble to lim­it the max­i­mum risk size in % of the deposit.
A new posi­tion is opened after clos­ing posi­tions by Take Prof­it or Stop Loss if there is a sig­nal from ZigZag indi­ca­tor.
The Expert Advi­sor para­me­ters (except for indi­ca­tors' ones) can be changed via its inter­face with­out the need to dis­able the trad­ing robot (see Screenshots).
Rec­om­mend­ed chart peri­od — 15 minutes.
The Expert Advi­sor works both with four- and five-dig­it quotes.
Parameters:
Volume_PRC — posi­tion vol­ume as a % of the cur­rent balance;
Risk_PRC — risk lev­el as a % of the bal­ance. When this lev­el is reached, the Expert Advi­sor clos­es a posi­tion and stops;
Time­Frames — chart peri­od (the default val­ue is 15 min);
ZZ_x_Depth — ZigZag indi­ca­tor depth;
ZZ_x_Deviat — ZigZag indi­ca­tor deviation;
ZZ_x_Backstep — ZigZag indi­ca­tor delay;
where x is ZigZag indi­ca­tor index;
TakeProfit_PIP — Take­Prof­it lev­el in points for fix­ing the profit;
BRK_On — acti­vat­ing the func­tion of mov­ing a posi­tion to a break-even point (after Breakeven lev­el is reached);
TRS_On — acti­vat­ing Trail­ing stop func­tion with Breakeven level;
Breakeven — set­ting the lev­el of mov­ing a deal to a break-even point and track­ing for Trail­ing stop func­tion (in points);
Inver­sion — indi­ca­tor sig­nal inver­sion (in case the indi­ca­tor Highs are bro­ken through upwards: false —

BUY

; true —

SELL

);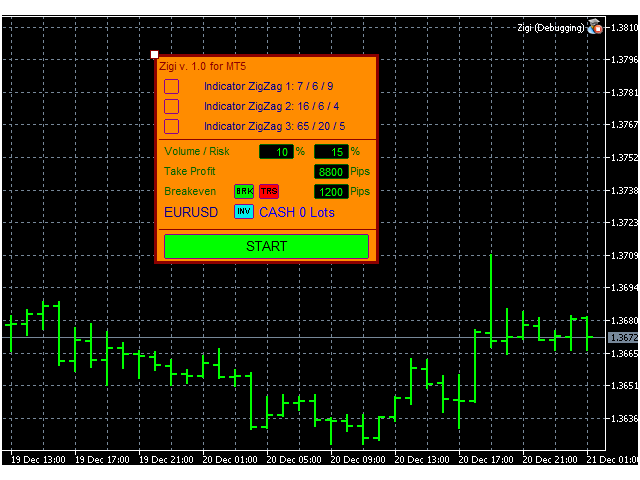 Relat­ed Posts
Expert Advi­sor Reverse Trades Copi­er Follow
Expert Advi­sor
EA
trades on a continuation
Expert Advi­sor ScalpelAC
Expert Advi­sor StormOscillators
Expert Advi­sor RobotStandardDeviationChannel
Expert Advi­sor Sure Fire
Expert Advi­sor Mul­ti Expert Sys­tem
TRADING
Expert Advi­sor Likeme­ter expert
Expert Advi­sor Quadru­ple Mov­ing Aver­age tfmt5