The PZ Price Spike EA trades price spikes tak­ing place in a short time win­dow, which is a uni­ver­sal Forex scalp­ing strat­e­gy.
Exam­ple of the EA log­ic: Buy if the price spikes up 10 pips in less than 15 sec­onds, and the oppo­site for shorts.
It can trade any Forex pair
Every input para­me­ter is self-explana­to­ry
Cus­tomiz­able price spike and time win­dow
Cus­tomiz­able

SL

,

TP

and Trail­ing Stop
Cus­tomiz­able trad­ing hours
Min­i­mal draw­down
Oth­er cool fea­tures are:
Option­al­ly, trad­ing deci­sions can be reversed
Max. Spread Option: Trades can be ignored if the spread is too high
Trad­ing is

FIFO

com­pli­ant
The out­come of tick scalp­ing is dif­fi­cult to pre­dict due to many fac­tors, but with Pz Tick Scalper EA you are in full con­trol of the trad­ing set­tings.
Trading
Tick scalpers are dan­ger­ous because many fac­tors can ruin the pay­off. Vari­able spreads and slip­page decrease the math­e­mat­i­cal expectan­cy of the trade, a low tick den­si­ty from the bro­ker can cause phan­tom trades, the stop lev­el under­mines your abil­i­ty to secure prof­its and net­work lag means requotes. Cau­tion is advised. In order to trade this EA, you need the fol­low­ing.
A good bro­ker, with low spreads and stop lev­els.
A good Inter­net con­nec­tion.
A lot of sta­mi­na.
Backtesting
The Expert Advi­sor uses tick data, not time­frame data. Back­test any time­frame in "Every tick" mode and play to find the best para­me­ters.
It is rec­om­mend­ed to back­test this Expert Advi­sor on a MetaQuotes demo account.
If your bro­ker can han­dle a tight trail­ing stop, the per­for­mance will increase.
Author
Arturo López Pérez, pri­vate investor and spec­u­la­tor, soft­ware engi­neer and founder of Point Zero Trad­ing Solu­tions.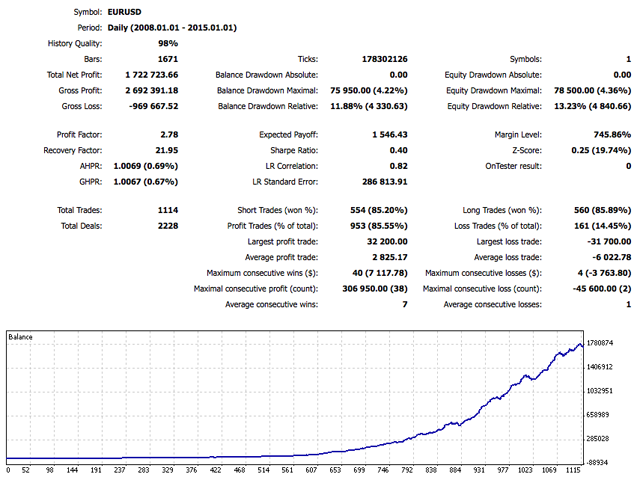 Relat­ed Posts
Expert Advi­sor Rob­o­t­Al­li­ga­tor
Expert Advi­sor Aver­ager
FULL
Expert Advi­sor Trade­Copi­er fol­low
Expert Advi­sor
PZ
Whale
EA
Expert Advi­sor Trend­Val­uer­Trad­ing
Expert Advi­sor
FXR
BEGINNER
Expert Advi­sor Kandi­laFx
Expert Advi­sor Robot­NRTR
Expert Advi­sor Scalpe­ri­or­FX
CCI
MT5
Expert Advi­sor Equi­ty Prof­it­Loss Con­trol