Sig­nalFind­er One Time­frame is a mul­ti­c­ur­ren­cy indi­ca­tor sim­i­lar to Sig­nalFind­er. On a sin­gle chart it dis­plays trend direc­tion on the cur­rent­ly select time­frame of sev­er­al cur­ren­cy pairs. The trend direc­tion is dis­played on spec­i­fied bars.
Main Fea­tures:
The indi­ca­tor is installed on a sin­gle chart.
The trend is detect­ed on a select­ed bar.
This ver­sion is opti­mized to decrease the resource con­sump­tion.
Intu­itive and sim­ple inter­face.
Input Para­me­ters:
Sym­bols — cur­ren­cy pairs (dupli­cates are delet­ed).
Bars — num­bers of bars to detect trends (dupli­cates are delet­ed).
Rank­ing — enable/disable rank­ing.
Rank­ing is sort­ing cur­ren­cy pairs on the basis of the sta­bil­i­ty of a sig­nal. Cal­cu­la­tion in a row is done from right to left.
Cur­ren­cy pairs and time frames are sep­a­rat­ed by com­ma in the list. If a cur­ren­cy pairs or a time­frame does not exist or spec­i­fied incor­rect­ly, it will be high­light­ed with a crim­son col­or in the table.
The max­i­mum bar num­ber is 99. Val­ues of bars with greater num­bers are not dis­played in the table.
Indi­ca­tor Sig­nals:
Blue arrow up — the spec­i­fied can­dle­stick is bull­ish.
Red arrow down — the spec­i­fied can­dle­stick is bear­ish.
Gray dot — the open price is equal to the close price of the spec­i­fied bar.
Yel­low dot — load­ing his­to­ry.
Vio­let cross — lim­it­ed in the ver­sion.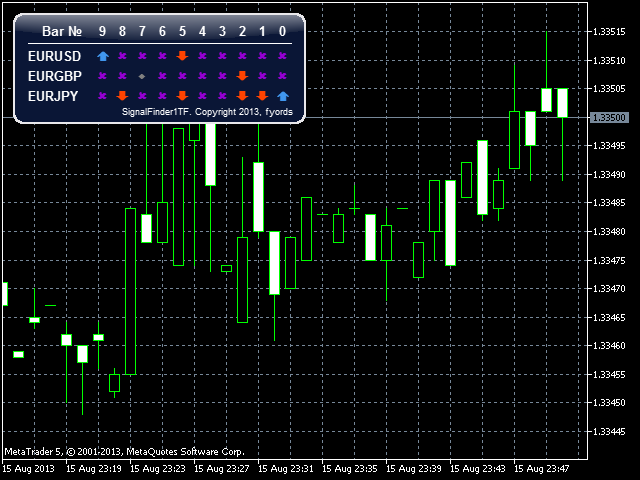 Relat­ed Posts
Indi­ca­tor
ROMAN5
Frac­tals
TS
Indi­ca­tor
Indi­ca­tor
PZ
Tur­tle Trad­ing
MT5
Indi­ca­tor Col­or lin­ear regres­sion
Indi­ca­tor
ROMAN5
Par­a­bol­ic­SAR
TS
Indi­ca­tor
Indi­ca­tor Dynam­ic Sup­port Resis­tance
MT5
Free
Indi­ca­tor Pairs Trad­ing Hedge Chart Demo
Indi­ca­tor
MA
off­set
ATR