Vol­ume at Price indi­ca­tor gives an approx­i­ma­tion of vol­ume at each price lev­el. Vol­ume is vital when deter­min­ing which price lev­el is strong and which is not.
With this indi­ca­tor which esti­mates the vol­ume at each price lev­el by using some sort of sta­tis­ti­cal tech­niques along with Tick Vol­ume, you will be able to detect the areas of high vol­ume and the areas of low vol­ume or even vol­ume diver­gence and gaps in vol­ume.
Inter­pre­ta­tion of the vol­ume chart is esti­mat­ed by the user: some traders will use high vol­ume areas as strong sup­port or resis­tant lev­els, where­as oth­ers will use areas with low vol­ume as the strong lev­el of sup­port or resis­tant lev­els. It can't be used as stand alone indi­ca­tor, use it as deci­sion sup­port tool that con­firms trad­ing deci­sions of your own strat­e­gy.
Features
Shows his­tor­i­cal vol­ume pro­files for pre­vi­ous peri­ods by scrolling the chart to left: the indi­ca­tor will show the pro­file for the select­ed peri­od for the select­ed time­frame. Please note the max­i­mum his­tor­i­cal data the indi­ca­tor can show is lim­it­ed to the amount of his­tor­i­cal data that your bro­ker pro­vides.
Can work with CFDs such as met­als, stocks by enabling CFDs mode.
Cus­tomized Tick val­ue.
Shows vol­ume pro­file for cus­tom peri­ods. Use Cycle Line tool to select the peri­od you want.
Parameters
Time Frame: Select the required time frame from which the indi­ca­tor will get its infor­ma­tion. Sure, if you select low­er time frame this will give you more accu­rate results, how­ev­er it may lead to unnec­es­sary results "over­crowd­ing" on the chart, in addi­tion for late peri­ods there might be not enough data.
His­togram Col­or: Select the col­or of the his­togram.
Instru­ment is Com­mod­i­ty or stock: Select true is you are work­ing with CFDs, Gold, Stocks etc.In fact this will give you bet­ter results, in gen­er­al you can use this option for instru­ments that have big val­ues and that are high­ly volatile such as gold, it's not log­i­cal to count every tick for gold when its val­ue can move up to 100 pips in just a cou­ple of min­utes.
Cus­tom Tick Val­ue: This can be used to cus­tomize the amount of tick val­ue, this works if the pre­vi­ous para­me­ter is set to true.
His­togram Every xx Points: This option deter­mines the width of the his­togram in points. 2 Points is rec­om­mend­ed for low­er time­frames, on high­er time­frames it's bet­ter to change it to high­er num­ber like 4 or 5. This is also makes the chart looks bet­ter and avoids a lot of unnec­es­sary his­togram bars on chart.
Demo Ver­sion works only on
EURUSD
.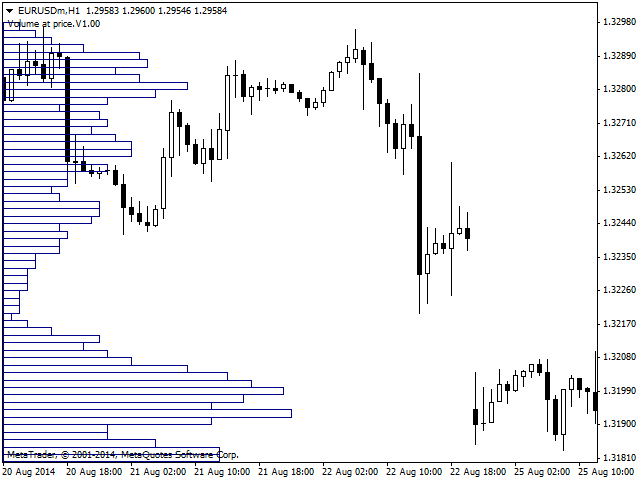 Relat­ed Posts
Indi­ca­tor Per­cent b Bollinger Band­Width tfmt4
Indi­ca­tor
FQ
Cus­tom Lev­els
Indi­ca­tor Mov­ing Aver­age Envelopes tfmt4
Indi­ca­tor Force In His­togram
Indi­ca­tor Delta
AG
Free
Indi­ca­tor Mar­kets Mon­ey Posi­tion Size tfmt4
Indi­ca­tor
DI
Sup­port resis­tance
Indi­ca­tor Auto­mat­ic Piv­ot