The main advan­tage of this Expert Advi­sor is giv­ing more space for chart details by sav­ing space nor­mal­ly occu­pied by the Toolbox.
This EA allows plac­ing and clos­ing order by drag and drop.
This free ver­sion places only buy orders. To place both buy and sell orders, please pur­chase the full ver­sion for the cur­ren­cy you need.
Yel­low col­or labels indi­cate Sell Orders. Aqua col­or labels indi­cate Buy orders.
Enter Lot size in textbox. To place an order, drag the label below 2 white par­al­lel lines. On the next tick the order will be placed on the cor­re­spond­ing pair.
After the order is placed, a new label appears below the white lines. It con­tains sym­bol name, lot size, type of order and float­ing prof­it. The float­ing prof­it is updat­ed every tick.
You can drag that label any­where below the white line as would be con­ve­nient for your.
Bal­ance, equi­ty and over­all float­ing prof­it is also updat­ed near the bot­tom of the chart.
To close an order, drag the label (show­ing float­ing prof­it) from below the white line to above it. The order will be closed on the next tick.
Abbre­vi­a­tions for the labels are: A‑AUD, N‑NZD, S‑CHF, C‑CAD, J‑JPY, G‑GBP, E‑EUR and U‑USD. For exam­ple, EU stands for EURUSD.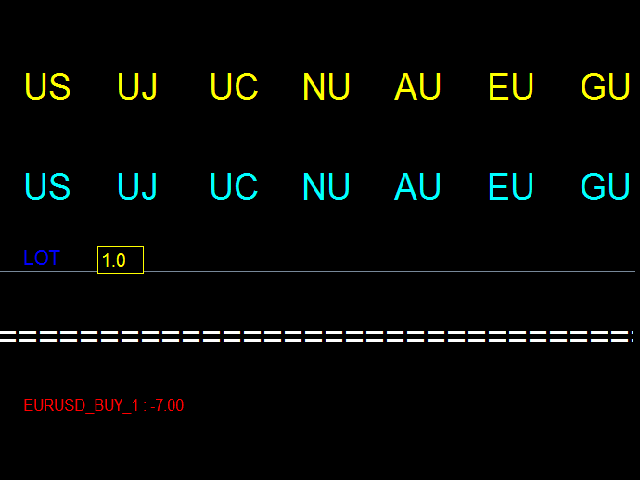 Relat­ed Posts
Pan­el Vir­tu­al­Trade­Pad Lite
Pan­el Quick­Prof­it Free
Pan­el Vir­tu­al­Trade­Pad Ordersstyle
Pan­el Price Info Pan­el Demo
Pan­el Smart Click­er Demo
Pan­el One Click Close Limited
Pan­el Mar­ket Watch Pan­el Demo
Pan­el My Mon­ey Man­ag­er Demo
MT5
Pan­el Trade Con­troller Demo
MT5