Active Lines DEMO is a demo ver­sion of Active Lines. In this ver­sion, trade oper­a­tions are dis­abled, it can only run on one chart.
Active Lines — a pow­er­ful pro­fes­sion­al tool for oper­a­tions with lines on charts. Active Lines pro­vides a wide range of actions for events when the price cross­es lines. For exam­ple: noti­fy, open/modify/close a posi­tion, place/remove pend­ing orders. With Active Lines you can assign sev­er­al tasks to one line, for each of which you can set indi­vid­ual trig­ger con­di­tions, as well as con­di­tions for re-acti­va­tions and the num­ber of pos­si­ble activations.
Active Lines helps you eas­i­ly orga­nize var­i­ous trad­ing strate­gies con­nect­ed with trend­lines, sup­port and resis­tance lines. For exam­ple, for trad­ing inside a chan­nel, trad­ing in a tri­an­gle, grid of orders, etc.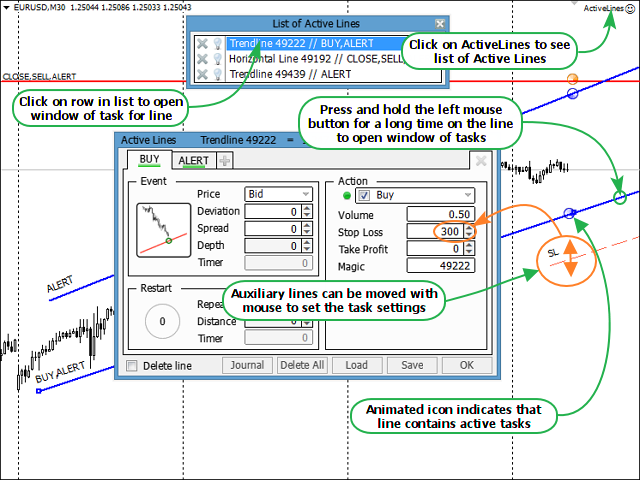 Relat­ed Posts
Util­i­tie
USD
NEWS
TRADER
Util­i­tie Scalp Tools Alarm
Util­i­tie TrailingByPercentOfProfit
Util­i­tie Addi­tion­al Short­cuts for
MT4
Demo
Util­i­tie CloseAllSellSymbol
Ana­lyz­er Auto­mat­ic stops
Util­i­tie Clos­er
ALL
pend­ing by magic
Util­i­tie CloseAllBuySymbol