This util­i­ty lets you set up key­board short­cuts to change chart sym­bol, peri­od or con­trol oth­er chart properties.
You can cre­ate hot-keys for:
All avail­able sym­bols in "Mar­ket Watch";
9 time frames (

PERIOD_M1

,

PERIOD_M5

,

PERIOD_M15

,

PERIOD_M30

,

PERIOD_H1

,

PERIOD_H4

,

PERIOD_D1

,

PERIOD_W1

,

PERIOD_MN1

);
chart options (show or hide):

bid/ask lines,
trade lev­els,
date and price scale,
chart auto scroll,
chart shift
…

object prop­er­ties:

change object col­or, style, width with cus­tom pop-up menus;
select all objects;
delete all objects;
delete objects by their type.
This util­i­ty also allows you to syn­chro­nize your charts. That means that you can change peri­od or sym­bol on mul­ti­ple charts by one but­ton press.
Besides peri­od and sym­bol you can synchronize:
chart type,
chart scale,
chart col­ors,
scrolling*.
*"syn­chro­nous scrolling" lets you to scroll mul­ti­ple charts at the same time ("chart auto­scroll" needs to be disabled).
**Demo ver­sion allows you to set three hot-keys at the same time. Syn­chro­niza­tion works between two charts.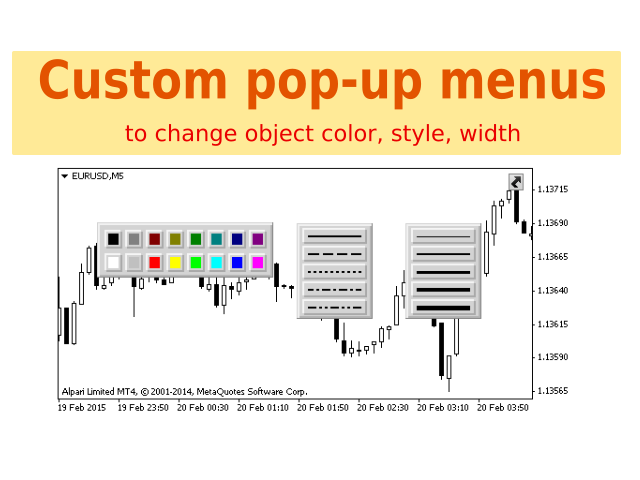 Relat­ed Posts
Util­i­tie Show info on chart
Util­i­tie Mir­ror controller
Util­i­tie CloseMultipleOrders
Util­i­tie Clos­er
ALL
pend­ing by magic
Util­i­tie Data auto loader for News on Chart
Util­i­tie Clos­er
ALL
opened by magic
Util­i­tie Clos­er
ALL
by magic
Util­i­tie SignalBaseScanDemo