This script noti­fies a user about dif­fer­ent events by play­ing sounds, send­ing emails and text mes­sages to a mobile device. The fol­low­ing events are sup­port­ed:
New deals (in/in out/out).
Expi­ra­tion of Pend­ing orders.
The ter­mi­nal dis­con­nect­ed.
The ter­mi­nal or the script closed.
Please set a noti­fi­ca­tion type for each event sep­a­rate­ly.
If you need noti­fi­ca­tions via Email, please make sure that the set­tings on the Email tab are cor­rect.
If you need to receive noti­fi­ca­tions on a mobile device, please make sure the set­tings on the Noti­fi­ca­tions tab are cor­rect (See the arti­cle MetaQuotes ID in Meta­Trad­er Mobile Ter­mi­nal for details).
To use cus­tom sounds for noti­fi­ca­tion, copy the sound files into "terminal_path\Sounds" fold­er and spec­i­fy the exact file name as the cor­re­spond­ing input para­me­ter of the script. The sound file must be of the *.wav for­mat.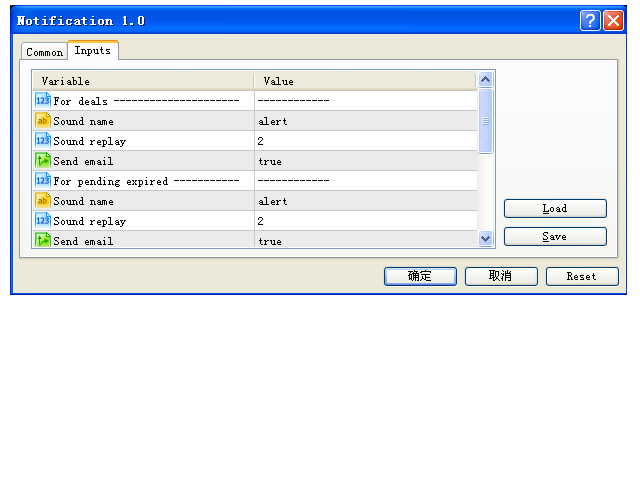 Relat­ed Posts
Util­i­tie Close­By­Los­sOr­Prof­itTune
Util­i­tie Com­pare Quote and Spread
Util­i­tie All­Sym­bol­Tick­Save
MT5
Util­i­tie Fast Fibonac­ci Grid
MT5
Util­i­tie Can­dle length indi­ca­tor alarm
Util­i­tie Robot­Con­troller
Util­i­tie Close­ByPer­cent­Los­sOr­Prof­itTune
Util­i­tie Smart Ruler
MT5
Util­i­tie Slid­er pro­fy