The idea of ‹‹enhanc­ing the free Slid­er util­i­ty appeared after the release of a lite ver­sion of the EA trade pan­el Trad­ing Chaos Expert Lite, which oper­ates in the Cur­rent Chart mode with­out the pos­si­bil­i­ty to main­tain trades of sev­er­al sym­bols in a sin­gle win­dow.
The purpose of Slider profy
Ease search for trad­ing sig­nals by auto­mat­ic dis­play of charts of cur­ren­cy pairs from the "Mar­ket Watch" one by one at a spec­i­fied inter­val of time in sec­onds.
Automa­tion of one-click plac­ing of pend­ing orders using the script or Expert Advi­sor.
How to Use
Open a win­dow with the chart of the required time­frame.
Attach required indi­ca­tors, a script or an Expert Advi­sor and cre­ate a tem­plate.
Attach Slid­er pro­fy to the tem­plate, set­ting up the required chart dis­play dura­tion and the Stop\Start but­ton loca­tion cor­ner.
When you click Start, Slid­er pro­fy starts show­ing chart one by one in one win­dow, start­ing from the first cur­ren­cy pair in the Mar­ket Watch win­dow.
When a trade alert is detect­ed, the Stop but­ton is pressed. The Expert Advi­sor (script) is acti­vat­ed to enter into a posi­tion or place a pend­ing order.
Chart is select­ed using the left mouse but­ton, Slid­er pro­fy opens a new win­dow with the tem­plate of the cur­ren­cy pair locat­ed next on the list in Mar­ket Watch. Press Start to view charts.
After charts are viewed and mar­ket entries are auto­mat­ed, press the Win­dow but­ton in the МТ5 inter­face and select charts "Ver­ti­cal" or "Hor­i­zon­tal". Thus the trad­er gets easy access to the charts with the run­ning

EA

.
The util­i­ty works with any indi­ca­tors and Expert Advi­sors on any time­frame.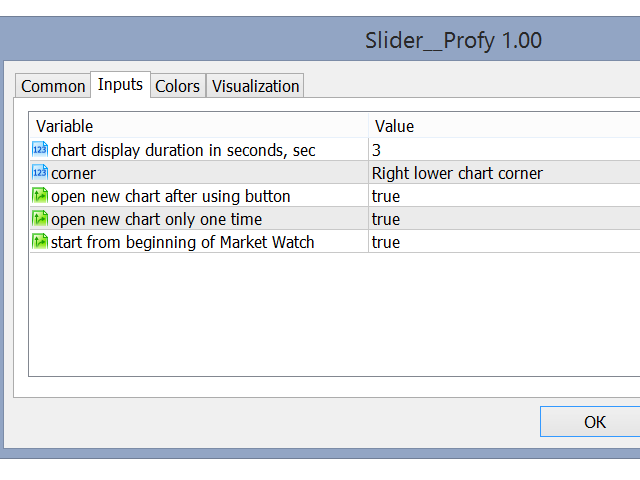 Relat­ed Posts
Util­i­tie Close­ByPer­cent­Los­sOr­Prof­itTune
Util­i­tie Auto Trade Copi­er for
MT5
Util­i­tie Can­dles Check­er for Forex
Util­i­tie Lev­els­Mark­er
Util­i­tie Noti­fi­ca­tion
Util­i­tie Com­pare Quote and Spread
Util­i­tie
KL
Effort­less Risk Man­ag­er for