You don't have to set stop loss or take prof­it man­u­al­ly by cal­cu­la­tion pips. This EA will cal­cu­late for you on your pre­de­fined val­ue and close your order when it should. Basi­cal­ly it will help you to close all your trades at a time. This EA nev­er opens trades but clos­es trades.
Sup­pose you have 4+ open posi­tions and mar­ket is heavy volatile. At this moment some of your trades give you prof­it and some give you loss. So you can not close a trade indi­vid­u­al­ly to save your cap­i­tal. Now you don't care about pips and wait­ing for a move­ment which can give you a fixed amount of prof­it or loss. You want to close all your trades at a time when you get cer­tain amount of prof­it or loss. Doing it man­u­al­ly is not an easy task. I per­son­al­ly suf­fer by this kind of sit­u­a­tion. So I devel­op this EA. Now I make it avail­able in the mar­ket so you can use it.
Go to the input sec­tion of the EA and set your stop loss and take prof­it in your account cur­ren­cy units. If you want to close your pend­ing order with open trade by this EA then set close pend­ing order true oth­er­wise false in input sec­tion.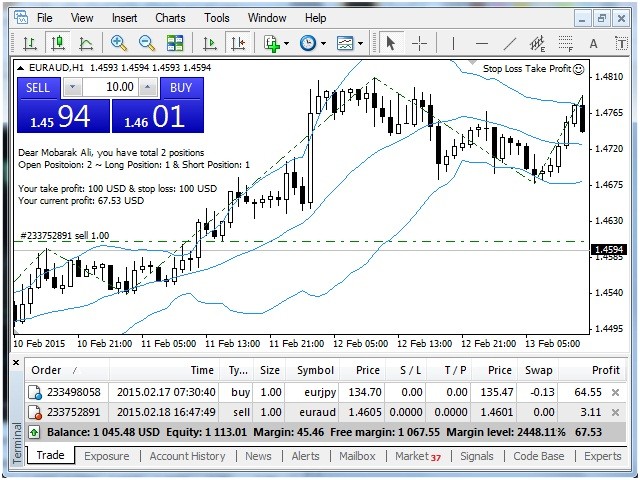 Relat­ed Posts
Util­i­tie CloseOn­Chart Selec­tions
Util­i­tie Sig­nal Lot Enlarg­er Lite
Util­i­tie Pow­er­play Trade Man­ag­er
Util­i­tie Man­u­al­Po­si­tion­Sup­port­er
Util­i­tie Mar­ket­Pa­troller
Util­i­tie Exit Sched­uler