Description
Trade Design­er is a script for open­ing posi­tions at the points marked by the Trade Design­er of the same name. The script auto­mat­i­cal­ly deter­mines the direc­tion of the posi­tion, type, and size based on the sig­nals of the indi­ca­tor.
The order type is defined by the stop loss loca­tion rel­a­tive to the open price. If the indi­ca­tor does not run on the chart where the script is run­ning, then no posi­tion will be opened. Please note that the val­ue of the Unique Num­ber must be in par­al­lel with the val­ue set in the indicator.
Require­ments
Meta­Trad­er 4 Build 600 or higher.
The Trade Design­er indi­ca­tor must be run­ning on a chart.
Allow Auto­Trad­ing before run­ning the script.
Input Parameters
Slip­page (default: 3) " when an order is placed, the Ëœcur­ren­tâ"¢ price is not always avail­able. This set­ting spec­i­fies the max­i­mum dis­tance from the expect­ed order price (in points) which is still con­sid­ered accept­able when open­ing and clos­ing orders. The default val­ue of 3 points is nor­mal­ly fine with most brokers.

ECN

Bro­ker (default: true) " this para­me­ter defines whether your bro­ker is an

ECN

bro­ker or not. If you have no infor­ma­tion about it, please ask your bro­ker or leave the para­me­ter

TRUE

.
Unique Num­ber (default: 111111) " the script must assign a unique, non-zero num­ber to the posi­tion being opened. In the future, it must man­age only posi­tions, the unique num­ber of which is equal to the pre­set one.
Please watch the demo videos to under­stand this script and see how it works.
Demo Videos
Down­load the demo ver­sion of the indicator: Trade Design­er Demo (it works only on USDCAD pair).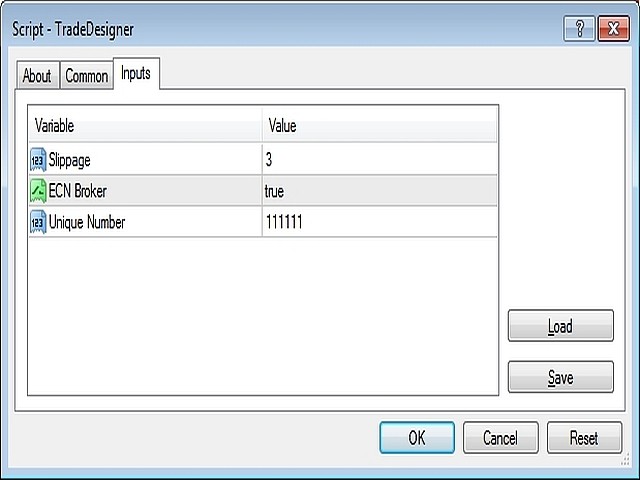 Relat­ed Posts
Util­i­tie Free Account Details
Util­i­tie Addi­tion­al Short­cuts for
MT4
Demo
Util­i­tie Mir­ror controller
Util­i­tie Ver­dure Com­mu­ni­ty Bal­ance Alert
Util­i­tie Auto Trade Copi­er Demo
Util­i­tie Ice­FX DrawProfit